Gone Walkabout - Jim Carey's Adventure,
Touring the Continental United States
for Two Years
The term walkabout comes from the Australian Aboriginal. The idea is that a person can get so caught up in one's work, obligations and duties that the truly important parts of one's self become lost. From there it is a downward spiral as one gets farther and farther from the true self. A crisis situation usually develops that awakens the wayward to the absent true self. It is at this time that one must go on walkabout. All possessions are left behind, except for essential items, and one starts walking.
Metaphorically speaking, the journey goes on until you meet yourself. Once you find yourself, you sit down and have a long talk about what one has learned, felt and done in each other's absence. One talks until there is nothing left to say -- the truly important things cannot be said. If one is lucky, after everything has been said and unsaid, one looks up and sees only one person instead of the previous two. -- Thanks to Sean Connolly's walkabout and adventure tour website for this succinct description.
In January of '99 I went walkabout. I locked up my computer company, laid off the help, sold my house and left Key West, FL. On the first of April I finally fired up my laptop computer for the first time and let a few of my friends know that I was alive and OK. The following travelog is a collection of the emails I wrote over the ensuing months as I went on my Adventure Tour and explored the 48 states of the continental United States of America.
It seems that I'm still walkabout as of this writing. <g>
Jim Carey
Herndon, GA
jimcarey@engineer.com
8/26/2001
Please note that email and other addresses contained herein may be out-of-date. Current contact information can be found at the bottom of this document.
====================================================================
Sent: Thursday, April 01, 1999 8:51 PM
Subject: walkabout update
well, i'm sitting in a cute little cabin outside of Sneedville, TN, halfway up the side of a mountain and half a mile from the nearest neighbor. the crickets & frogs are nearly deafening.
larry meggs & i arrived here this morning and spent the day looking at farms with a local realtor. we covered 5 counties and over a hundred miles today. we looked at 6 or 7 major properties. if it wasn't for my GPS we would have been hopelessly lost.
Larry thinks he found his place: 80 acres of heavily wooded, steep property with 5 nice cabins on it, 2 of which need finishing. numerous logging roads. i think he likes it. the owner, who lives in florida, let us spend the night in the big house, so that's how we ended up here. larry's outside right now trying to get the water turned on (lots of springs on the property).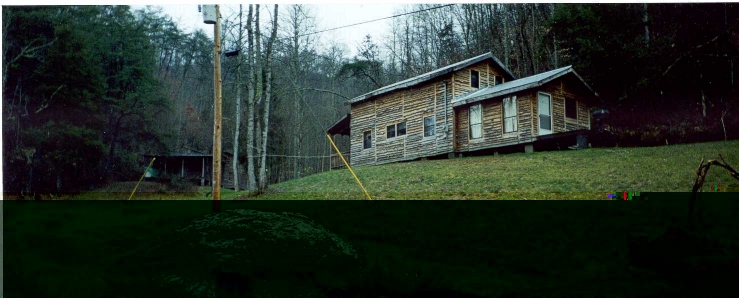 on the next ridge over, maybe 5 miles away in a straight line, and 25 miles by road, i found 60 acres of farmland, mostly cleared, some timber down in the hollow. the whole place is at the top of "copper ridge," elevation 1800ft, outside of treadway, ga. there's a couple of old barns, a garage & chicken coop, but no house on the land. the views from the hilltop are magnificent. i'm really impressed with the property, and am going back to see it again tomorrow.
i just might become a tennessee ridgerunner. more news as things develop. it's been a wonderful tour of the state.
this might not go out for a day or 2. the phones are shut off here, and my cell phone doesn't work in these valleys. :j
Jim
================
Sent: Wednesday, April 21, 1999 1:19 PM
Subject: walkabout
well, i finally got myself motivated and got back on the road. had an uneventful trip across alabama & mississippi & louisana. ihad a beautiful trip across texas. the landscape, and the way it changes as you cross the state, is beautiful.
i'm presently about 25 miles north of phoenix. i'm taking a couple of days to relax, clean up, reprovision, etc. arizona is truly a spectacular state, though when i settle down to a campground i realize that i DO miss having dirt around. it's rocks, rocks, rocks around here.
next stop will be the grand canyon, monument valley, etc. time to make a decision about the truck & trailer, though. the mountains get MUCH steeper north of here, and the truck is going to overheat going up some of those mountains with the trailer. SOoooooo...... it's either get a bigger truck, or rig a sprayer from the trailer's water tank to the truck's radiator, or camp out in the mountains and leave the airstream in phoenix. Might be here a week or 2 while i decide what to do.
more news later. the Real Adventure begins.....
:j
Jim
---------------
Sent: Sunday, April 25, 1999 3:47 PM
Subject: walkabout update
i did the grand canyon today. unbelievable. especially when a front rolled in from the north, the cloud bases fell into the canyon, and i ended up inside the clouds. while it snowed REAL hard. they're predicting 4-6 inches tonight. drove out of it to the east, into the painted desert. stopped for the night in Tuba City, AZ. on to monument valley, 4 corners, canyon de chiele and petrified forest tomorrow.
i spend all my time doing a gomer pyle imitation.... "gollllyeeee!"
:j
Jim
---------------
Sent: Sunday, April 25, 1999 3:47 PM
Subject: walkabout, 4/23/99
well, it was another really neat day yesterday. i stayed at the quality inn in tuba, AZ, woke up before dawn and was on the road at sunrise. had a nice drive through the painted desert, past black mesa, and arrived at monument valley at 8:30am. spent over 2 hours there. it was everything i expected and more. their website can tell you more than i can.
then i headed across the southeast corner of utah for the 4 corners monument, where utah/arizona/colorado/newmexico meet at one spot. on the way i detoured up hwy 261 checked out something i saw on my cd rom map called "valley of the gods."
wow! it's like monument valley was the foothills or a preview! i found a road called valley of the gods road. it's 17 miles of rock, no bridges (you drive through the rivers), and runs along the base of the mountain range. blew me away. took over an hour to cover the 17 miles. really, really neat. i thought the name pretentious when i saw it on the map, but the area lived up to it....... the snow and rain we'd had the day before left the rivers & streams running, so the black blazer came out red at the other end of the road. i'll post a photo of it when i get the walkabout website up (just haven't had time yet).
finally i moved on to 4 corners, in the middle of nowhere, which was as anticlimatic as all the travel articles say. still, i'm glad i took the 100 mile detour to see it. it's that kind of a place. just like all the travel articles say.
then on to canyon de chelly in eastern arizona. after the grand canyon, monument valley and valley of the gods, it wasn't overwhelming. still, it was different. softer, rounder, lots of caves and charm. i'd like to go back and take the tour up the canyon.
did i do a lot of driving yesterday? well, yes, but around here the speed limits are 75, and if you don't do 85 you're not keeping up with traffic. so the miles go by quickly. on the 100 mile long downhill run from flagstaff to phoenix (7000 ft to 2000ft) i found myself doing 95 and 100, and barely keeping up with the traffic flow!
so i'm enjoying arizona. scenery, views, landscapes, and colors, colors, colors. lots of rock and not much dirt. even went through a dust storm yesterday. now THAT was an adventure. i had visions of coming out the other side with no paint on the truck...... but i guess that's just in the movies. <g>
i'm back at the campground and going to relax this weekend, do the laundry, etc. then.... off to the petrified forest and meteor crater on monday, and probably las vegas by the end of next week.... :j
Jim
---------------
Sent: Wednesday, April 28, 1999 12:24 PM
Subject: walkabout update
been hanging out around phoenix, working on the trailer, running errands like grocery shopping, and generally taking it easy. I found it interesting that the rabbit (actually, i think it's a hare) didn't run away this morning. just sat there looking at me as i walked within 4 feet of it.
:j
Jim
---------------
Sent: Friday, April 30, 1999 6:08 PM
Subject: walkabout update, 4/29/99
yesterday i went to see the pet trees in the fried forest (you HAVE heard of the pet tree fried forest, haven't you?). what a disappointment! just a bunch of rocks. talk about a disappointment! i don't know about you, but i plan to write a Strongly Worded Letter to the national park service about their false advertising!
signed,
way too much time on my hands Carey (the indians gave me a new name) :j
Jim
---------------
Sent: Friday, April 30, 1999 6:08 PM
Subject: walkabout update 4/20/99
sometimes i wonder if i'm going to hit sensory overload soon.
yesterday i went to montezuma's castle, tonto national forest & natural bridge, meteor crater, the painted desert and the petrified forest. i'll approach this in chronological order, since they were all magnificient.
montezuma's castle is neither a castle nor a residence of Montezuma. the navajos have a way with marketing names, that's all. montezuma never visited this far north. still, for a cliff dwelling from the anastazi indian era it was neat. a series of rooms cut & built into a cliff face hundreds of feet above the canyon floor. they called these people the sinaqua indians (sin-aqua = without water, get it?), which wasn't totally true because there's a stream running through the valley. still, the national park service put on a great presentation, and the tame squirrels that inhabit the park were cute.
on to tonto national forest. above 6000 feet the trees turn to ponderosa pines, and there was still snow on the ground on the north side of the mountains. after climbing over 7000 feet, you're expected to descend to 4500 feet in a little over a mile and you're in the main valley of the forest. no motorcoaches or trailers allowed on THAT road!
the arch/natural bridge (there's a technical difference, want me to explain? i will anyhow. natural bridges like tonto are caused by water, arches are caused by other elements). anyhow, you have to climb down another 500 feet or so to go under the arch, which was pretty easy, and once down there it was really cool. caves and brook trout that were almost transparent. getting back up again wasn't so easy though. it's no wonder i'm losing weight, all this climbing i'm doing out west here. by the way, you sure do huff and puff when climbing at 4000 ft plus. less oxygen in the air, and i REALLY notice it.
from there i headed north, back up to 7000 feet, then out of the mountains onto the high desert. when in the forest they warn you to watch for elk. haven't seen one yet. anyhow, when you see a giant cowpie in the middle of the road don't drive through it at 90 miles an hour like i did, because it's actually elk poop, and it makes one heck of a mess of your truck at that speed. smells real bad, too.
6500 feet, totally flat for 80 miles (sign: "next services, 51 miles"), and the wind whipping in 80 mile-an-hour gusts. oh, did i mention the snow flurries. cold? wow, cold! the wind chill factor must have been ???
using my trusty Streets 98 cd rom, i'd located a shortcut to meteor crater. i simply needed to take Forest Service Road 69 through the pass and i'd come out on the south side of meteor crater, cutting 20 miles off my trip.
i found FS69 ok. the signs said "warning! rarely traveled road! reconsider, or proceed at your own risk!" well, i've got all the different radios, a full tank of gas and 5 gallons of extra water, so off i went!
drive 5 miles. stop, get out, open the gate, get in the truck, drive through, stop, get out, close the gate, get back in, drive. repeat after 4-5 miles. boy, i was getting back into the woods. no bridges, but the 4 wheel drive forded the stream with no trouble. same with the shallow river when i was coming up on the high plains. the road would run down one side of a mountain, cross a stream, then work its way diagonally up the next mountain. really neat. spent the entire time in 4wd.
the signs on the forest service road started saying "authorized vehicles only", but, darn it, i'm 20 miles into this and i'm NOT turning back. and then i reached the high plains proper. oops. "private property. no trespassing." it didn't say THAT on the CD. still, i'm 30 miles into this, i'll just say i'm lost, or desperate, or whatever. sure can't see any houses or people. so through the gate i went. and then the next one was locked. drat!
i pulled out the laptop & fired up the CD. looked like another forest service road 3 miles to the west. ok, i'm off. yep, found the road. yep, another locked gate.
so.................... an hour or more later i was back where i started and STILL hadn't seen an elk. i'll show you sometime how to differentiate dirt from paved roads on the streets 98 CD if you ask me. some shortcut.....
i stopped for a car wash in winslow arizona, on the old route 66, to get the smell of elk poop off the truck. from there, west to meteor crater. you're driving across the high plains, flat and red as can be, lots of cows and NO fences, when you see this white hill rising out of the desert. oh, what's this? you get closer....
meteor crater is a 50,000 year-old impact site, 3/4 mile across, round and saucer shaped, over 500 feet deep at the middle and rising 165 feet above the desert floor. in 50,000 years they figure the sides have eroded only 10-15 feet - not much rain or erosion here. from the top you can see secondary craters surrounding the main one caused by ejecta from the impact.
they're completing a new, brick museum on the crater rim that's very informative. seems the old frame-built museum blew down in 180 knot winds not too long ago, so that's why the new one is brick. winds on the crater edge were over 120 knots when i was there. the guide said that was slightly above average. even the t-shirts say "i survived the winds at Meteor Crater!"
like many of the sights i've visited, you don't fully appreciate the scale until you get out your binoculars and realize the black speck at the bottom of the crater is a steam boiler left over from mining days, or that the stone over there on the edge is the size of a house. it IS immense. luckily, the hiking trail to the bottom was closed due to the wind. otherwise i would have had to huff and puff my way out of there, too.
I40 runs along the old route 66 highway, replacing it, but following the remnants would be a neat adventure. i drove through hobrook on 66 on the way to the petrified forest. almost got a motel room in the teepee cottages. "spend the night in a tee-pee!" their sign proclaimed. actually, i'd read about this tee-pee motel years ago in a travel guide, and they've been recently restored. still, the santa fe railroad line runs along the back of the motel, and the trains go back and forth every half hour along there. so i passed. still, it's a great piece of 1950's americana.
and then the best part -- the petrified forest, which is in the painted desert. intentionally i scheduled my visit for the late afternoon, which really brought out the colors in the desert. i'd never seen blue soil before, but there it was. blue bands right across the mountain ranges. and red, and yelllow, white, black, brown. as a matter of fact, i saw every color soil in the painted desert except green.
anyhow, i entered the park from the north side. the park is 28 miles long, with entrances at the 2 ends. for the first 15 miles i saw one breathtaking view of the painted desert after another. i'd been through the painted desert last week, but the most dramatic parts are actually located in petrified forest national part. also saw 500 year old petroglyphs left by the anasazi.
but after 15 miles of driving and stopping at the lookout points (by the way, i didn't take a single photo. there's no way photos can do this justice), i was saying to myself "well, this is fine, but theres's only so many times i can say 'gee whiz!'. SO! where's the trees?"
and even as i said this i looked off to my right and said, "wait a minute, what are those rocks?" because off to my right was a field, dropping off to a valley, covered by thousands and thousands what you might call chopping blocks of wooden stumps. wooden stumps for as far as i could see! i'd reached the petrified forest. i mean, i was expecting a petrified tree or 2, maybe a dozen in a clump. but here they cover entire square miles!
this first section was just pieces, because after the santa fe railroad came through the area the trains would stop and people would visit the area and haul off souvenirs. often by the wagonload. the trees had been broken up, often with dynamite, for souvenirs. it was around 1909 that congress finally put the area under federal protection to preserve what was left of it.
another 5, perhaps 10 miles down the road i reached "crystal valley", a section of the petrified forest that the tourists of 1880 hadn't reached. trees over 100 feet long, 3 feet in diameter, just lying on the ground a' la mt. st. helens. except that they were rock. and many of them, when they were broken and you could see their centers, were made of crystalline rock. you can a get much better description, with photos, off the internet.
the entire park took my breath away and was absolutely incredible. it's definitely a "must see" on any trip to this part of the country. and as the sun fell towards the horizon the colors light up like nothing i've ever seen before. to my left, a range of mountains, white bands across the bottom, then a band of blue perhaps 200 feet thick, another band of white, then red, then a layer of gold, topped by another band of white and capped by flat-topped beige sandstone rocks, balanced on the spires of white. a fantasy drawing made by a child could not have been more farfetched, but here it was, real as can be. more than once i had to pull off the road just to marvel.
and then the mountains fell away to the high plains again. i stopped at the giftshop while leaving the park for souvenirs. what amazed me the most was the woman in the gift shop, on her way to flagstaff, telling the clerk how she didn't have time to visit the park and had never drive through it, though she's been to the gift shop a dozen times in the last 6 years! (it's only 1/4 mile off I40).
so yesterday was another absolutely breathtaking day in the "golden circle" of the american southwest (don't know what the golden circle is? neither did i until yesterday). whew! i'm taking an off day today (Friday), then leaving at dawn tomorrow for las vegas. i'm taking the scenic route out of phoenix, then coming back along lake havasu, london bridge, and south along the nevada/arizona border to california before i double back to phoenix. looking for a flatter way to get the airstream up into northern nevada so that i can use it as a basecamp for forays into california and oregon.
more news in a couple of days, if i don't loose my shirt and computer in vegas. wish you were here!
:j
Jim
---------------
Sent: Saturday, May 08, 1999 11:07 AM
Subject: walkabout update, 5/8/99
ok, i've been remiss in my duties. las vegas was amazing. even more amazing, i left with all my money (didn't gamble a nickle, even on the whorehouses). talk about sin city! geeze. they've legalized every vice, i do believe. even prostitution is legal, and the girls advertise in the newspaper, in the phone book, even on TV.
i'll write about all that later. i'm back in Phoenix. been home resting up for a few days, and am leaving for CA in the morning. i'll post updates from the road, since i figure i'll be 7-10 days on this loop. more later. gotta plan my next adventure.
after leaving Vegas i followed the Colorado river down to mexico. London bridge, lake havasu, needles, california, and on and on. the desert is wonderful, solemn, moving. i wasn't ready for the imperial valley. golly, gosh. then a night in yuma before driving up the most deserted part of arizona, through the army's yuma proving grounds. i'd never seen a continuous, 50 mile fence before. but the army has it out there.
Jim
---------------
Sent: Saturday, May 15, 1999 7:26 PM
Subject: walkabout update, 5/10/99
so i'm finally back on the road. left phoenix before dawn yesterday, and had lunch in malibu beach, ca. got tired of the pacific coast highway, headed inland, and ended up camping in the santa monica mountains last night. LA at rush hour was an experience.
on the road today before dawn, and was at sequoia national forest by 9:30 am. i've now driven across California twice, in just twodays. spent the day at Sequoia (too awesome for words), and also in king's canyon. hustled over to yellowstone and got a campsite just as they were closing the park. going to spend the day touring and exploring here in Yellowstone tomorrow, cross the rockies again, and hopefully end up in Tahoe tomorrow night.
maybe by then i'll find a telephone so i can transmit this.
:j
Jim
---------------
Sent: Saturday, May 15, 1999 7:37 PM
Subject: walkabout update, 5/15/99
well, i'm in butte (that's a long u, not short), butte, montana. what a trip! will try to write a summary when i get back to phoenix in a few days.
it just started to snow here! time for me to get back south!
Jim
---------------
Sent: Thursday, May 20, 1999 10:20 AM
Subject: walkabout update, 5/17/99
a group of us were sitting around the fireplace last night and i told my story about how i got pulled over on the navajo reservation by officer johnny cree for doing 65 in a 75 zone (obstructing traffic). mike over in the corner pipes up and says, "johnny cree? but he's famous! i didn't know he was still doing police work."
mike goes on to tell how johnny cree, working for the navajo police force in the 60's, put a wire on a pot smoker in an effort to catch his supplier.
this made him famous, because it made him the first person to wire a head for a reservation!
(sorry... it was Mike's story, not mine......)
:j
Jim
---------------
Sent: Thursday, May 20, 1999 10:20 AM
Subject: walkabout update, 5/20/99
Well, i'm back in phoenix. covered CA, OR, WA, MT, CO, ID and UT. whew, what a trip. 10 days, 4,000 miles. i'll try to write it up later today. right now i've got unpacking & laundry to do. hope to head back east to AK by next monday.
and i still have to tell you about Butt, Montana.
what a country!
Jim
---------------
Sent: Thursday, May 20, 1999 10:20 AM
Subject: walkabout update 5/20/99 #2
actually, i guess i was gone 12 days.
:j
Jim
---------------
Sent: Tuesday, June 01, 1999 10:54 AM
Subject: walkabout update 6/1/99
well, i got to arkansas 2 days ago. it took this long to log onto the internet from here. we are REALLY out in the sticks! more later.
:j
Jim
---------------
Sent: Wednesday, June 02, 1999 8:59 PM
Subject: walkabout update 6/2/99
well, arkansas has been fun but i'm getting antsy again. time to hit the road. i'm leaving @ dawn; heading for mount rushmore this time. should be back in a week, if you don't hear from me before then.
:j
Jim
---------------
Sent: Friday, June 04, 1999 6:21 PM
Subject: walkabout update 6/4/99
well, i'm spending the night in fargo, ND. been through MO, IA, MN and WI. back to the cold country. Lots and lots of farms and flatland. towns are small and few and far between. it's interesting.
words can't do the vastness justice.
:j
Jim
---------------
Sent: Saturday, June 05, 1999 4:46 AM
Subject: walkabout; fargo, ND
in the parking lot there's a 4ft post in front of each parking space, with an electrical outlet box on it. it's for plugging your engine heater into at night. this is COLD country.
flatlands? we have a tornado watch from 4pm to 9pm tonight; everybody's commenting on it, but nobody seems worried. back in GA we're heading for the storm cellar when we hear the words "tornado watch." here, it happens every day.
:j
Jim
---------------
Sent: Saturday, June 05, 1999 10:23 PM
Subject: walkabout update 6/5/99
so fargo was interesting last night, don'tcha know? they were even playing euchre in the bars, eh?
so.... ON to mt. rushmore in western central south dakota at frist light. saw a tornado (huge!) west of dennison, ND. turned south onto us85 and avoided it.
interesting stuff in SW ND. go look up burning coal vein. strange stuff. a coal mine that's been burning underground for over 50 years. i saw the smoke from the highway.
us85... talk about a STRAIGHT road! 50 miles or more due south in SD without a single waver. then a jog SW for 10 miles, then 25 miles more due south. at one point i hadn't seen a house or anything except cattle & sheep & fences for over 40 miles in south dakota. whew!
the cruise control has helped a lot. but now that i've discovered that i can put a bungee cord on the steering wheel, driving is even easier.
mt rushmore is as neat as expected. i didn't expect to see it from 2 miles away, or out of my hotel room window. on the way up the mountainside, if you look east you're looking across SD high plains for 50 miles or more. quite the contrast.
stories that could go on all night. tomorrow on to crazy horse monument, the badlands, and then down to nebraska.
;j
Jim
---------------
Sent: Monday, June 07, 1999 10:37 PM
Subject: walkabout update 6/5/99b
so did you see what those intense thunderstorms did last night? we had heavy rain, lots of lightening, wind and hail up in the black hills of SD. down on the plains a tornado wiped out 60 mobile homes, killed 1 person and hospitalized another in critical condition. i had to change my route to avoid the town that was wiped out (it was on my way to wounded knee.)
whew.
Jim
---------------
Sent: Monday, June 07, 1999 10:36 PM
Subject: walkabout update 6/6/99
don't even think of driving in kansas at night. the bugs are so bad that at 70 mph they hit the windshield like rain. at least they don't bite; i'm typing this outside on a picnic table in a rest area at 10pm. lots of bugs swarming the screen, but no bites (yet).
from mt. rushmore this morning to the SD badlands, the souix indian reservation, wounded knee, then down and across nebraska and halfway across kansas by nightfall. lots of amber waves of grain; not much else. some spectacular scenery at times (lots and lots of driving between those times).
oklahoma and back to arkyland tomorrow.
Jim
---------------
Sent: Monday, June 07, 1999 10:37 PM
Subject: walkabout update 6/7/99
i'm back in arkansas. getting tired of traveling. off to ohio in a few days. more news later.
Jim
---------------
Sent: Tuesday, June 08, 1999 11:23 AM
Subject: walkabout funnies
Sign in a Fargo, ND bar (female owner & operator named Penny): "When you call me a Bitch you say it like that's a BAD thing."
In a Texas men's room: "The chewing gum in this machine tastes AWFUL!"
And in Louisiana, written on the toilet seat cover dispenser in the men's room: "Free Lobster Bibs!"
:j
Jim
---------------
Sent: Tuesday, June 08, 1999 11:24 AM
Subject: walkabout update, 6/8/99
based on reactions to my joke a few days ago about marriage and buying a house, i have now learned the following and would like to ammend a joke i sent last week:
The 10 things men know about women:
1. NEVER joke with a woman about marriage.
2.
3.
4.
5.
6.
7.
8.
9.
10.
my mailing list for these little tidbits & witticisms is shorter now. (bah, humbug! it was just the shallow end of the gene pool climbing out!).
boy, did i get my ears boxed! ouch! didn't even know some of them thought of me that way! whew! ouch! anyhow, lesson learned, and engraved on forehead so i'll see it in the mirror each morning!
it's a good thing i was in south dakota when that joke was delivered. it's probably the only reason i'm still alive!!!!!!! i might just stay out west of the mississippi until things cool down. say around the year 2030 or so......
:j
Jim
---------------
Sent: Thursday, June 10, 1999 9:00 PM
Subject: walkabout update 6/10/99
i'm on the move again. leaving arkansas, heading up through missouri & east through illinois. now that i have my cell phone adapter for the laptop i shouldn't be out of touch for such long periods as i have been.
news when it happens........
:-)
Jim
---------------
Sent: Friday, June 11, 1999 11:04 AM
Subject: walkabout update 6/11/99
i'm on the road again. left arkyland at first light, made springfield, mo by 9am. all's going well, and the cell phone->laptop adapter is working fine.
:j
Jim
---------------
Sent: Sunday, June 13, 1999 4:57 PM
Subject: walkabout update 6/12/99
i'm in indiana, less than an hour out of dayton, oh. i'm at the pre-pre-rally for the airstream rally on june 23rd. gonna spruce up the trailer; done a lot of traveling since i left arizona.
gonna be nice to just sit for 12 days!
Jim
---------------
Sent: Wednesday, June 16, 1999 9:25 PM
Subject: walkabout update 6/16/99
wow, is it cold out! the low was in the 40's last night, the high yesterday was 72. and this is June?
when i got here on saturday it was over 100 degrees. i felt just like home. then it rained sunday night and has been cool ever since. the weatherman predicts weather like this all week. here it is 9:30 am and i can't get outside to get any work done on the trailer because it's too cold. so much for washing & waxing the truck today. the donnie and marie show on TV was interesting this morning. i didn't know they had their own show. how long has this been going on?
i've found a nice campground in eastern indiana, and am staying here until parking opens for the international airstream rally in dayton, ohio, next week. will probably run down to kentucky for a couple of days. can't go today, though, because i got half the trailer waxed yesterday, and don't feel i can leave until it's done. well, hopefully i'll be able to go outside by noon today.
boy, i called kansas flat. that was before i saw indiana. it's even flatter.
by the way, WHAT is a HOOSIER? oh, i know the locals call themselves that, but what was the origin of the term? any idea? i've asked around the campground, and everybody just shrugs & says "i dunno."
:j
Jim
---------------
Sent: Thursday, June 24, 1999 10:05 AM
Subject: walkabout update, 6/23/99
well, the past 12 days in centerville, indiana, have been relaxing and productive. i've got the trailer and the truck polished up like never before. they're really looking great.
at dawn tomorrow morning i'm heading out to the clark county fairgrounds in springfield, ohio, where they're pre-staging the airstream parade. then at 10 am on friday morning there's a parade, i guess of mostly vintage airstream trailers, from springfield to dayton. then we'll be at dayton until july 4th.
wait until they see my fireworks collection for the 4th! it's unbelievable what you can get in indiana fireworks store. i mean, i have m80 firecrackers, smoke bombs, TONS of little firecrackers, and sky rockets as big as 3 inches in diameter! if my trailer doesn't explode between now & the 4th, it'll be a specular display. i guess it'll be a spectacular display if the trailer explodes, too..... it's a good thing i don't smoke anymore.
well, i'll let you know what the parade was like. the only parade i've ever been in before this were Nixon's Inaugaral parade, and Fantasy Fest.
Ohio will make state number 33 on this trip!
:j
Jim
---------------
Sent: Thursday, June 24, 1999 10:05 AM
Subject: walkabout update 6/24/99
well, i've made it to the airstream pre-rally in springfield, ohio. since i spent a week scrubbing & polishing the trailer, of course it rained for the whole 80 miles coming here from indiana.
parade to dayton at 10am tomorrow. that should be fun.
:j
Jim
---------------
Sent: Friday, June 25, 1999 10:35 PM
Subject: walkabout update, 6/24/99 B
so i get the trailer settled in this afternoon, fire up the cd rom, print a map to the local walmarts & kmarts, and head off to go shopping.
after a minor wrong turn, and as i pull over to turn around, i realize that this "meijer" store in front of me has a garden department and looks, basically, like a kmart or walmart. so i park, grab my shopping list, and go in.
WHAT A STORE! WOW!!!! this store made a super walmart look like Nothing. your typical walmart would fit in the corner of this store. i found everything i was looking for, and then some.
boy oh boy. the things you miss when you spend 20 years in the tropics! i had NO Idea!
:j
Jim
---------------
Sent: Friday, June 25, 1999 7:48 AM
Subject: walkabout update 6/25/99
my sister cheryl has taken over the responsibility of keeping an eye on me when i travel. when she agreed to take this on, she gave me 3 phone numbers (all of which are just machines) and 2 email addresses. see #4 below..........
Signs that you have had too much of the 90's:
You tried to enter your password on the microwave.
You now think of three espressos as "getting wasted".
You haven't played solitaire with a real deck of cards in years.
You have a list of 15 phone numbers to reach your family of 3.
You e-mail your son in his room to tell him dinner is ready and he e-mails you back, "What's for dinner?"
Your daughter sells Girl Scout Cookies via her web site.
You chat several times a day with a stranger from South Africa, but
you haven't spoken with your next door neighbor yet this year.
You didn't give your valentine a card this year, but you posted one for your e-mail buddies via a web page.
Your daughter just bought a CD of all the records your college roommate used to play.
You check the ingredients on a can of chicken noodle soup to see if it contains echinacea.
You check your blow dryer to see if it's Y2K compliant.
Your grandmother clogs up your e-mail inbox asking you to send her a JPEG file of your newborn so she can create a screen saver.
You pull up in your own driveway and use your cell phone to see if anyone is home.
:j
Jim
---------------
Sent: Friday, June 25, 1999 8:49 PM
Subject: walkabout update, 6/25/99, evening edition
well, we made it to dayton. traveling in a 75 airstream trailer convoy was really neat. came over the hill on US 70 and all i could see, from horizon to horizon, east to west, were shiny vintage airstream trailers.
we parked. had a parade. parked again. moved, and finally we're settled for the next week or so. will be here to july 4th. if you want to come & visit, call me & i'll give you directions.
more news later.....
Jim
561-371-7926
---------------
Sent: Sunday, June 27, 1999 9:16 AM
Subject: walkabout update, 6/27/99
airstream rally is going well. these folks sure can organize stuff. 12 hours after we'd parked in our final resting space they'd run water lines and electric to all the trailers. not enough electric for AC, granted, but enough to run everything else in a trailer. they pump out your sewage for you every morning.
went to the airstream parts store yesterday, and was like a kid in a candy store. spent $250 on do-dads and doo-hickys. very important doo-hickys, mind you. i'll be the next 3 days installing everything. i think that's the real reason for these rallys. to bring the customers to the parts store.
the rally is at wright state university, between dayton & wright patterson AFB. wright patterson is, of course, the more interesting of the two. they didn't have enough room in any one place to park all of the trailers, so they're spread out over 5 miles or so, and a shuttle bus runs between everything. there's a lot of wright brother stuff around here to see, of course, so it'll be easy to stay busy all next week.
some of the seminars i'm planning to attend are: beginning square dancing 1,2,3 and 4 (it's also an exercise class), the physics of towing, airstream factory trailer seminar, wbcci movie & video history, suspension & handling, full timer's seminar 1&2, trailering safety seminar, water filter purification & conditioning, photo print contest, art contest, crafts contest & sales, airstreamer's flea market, electrical surge protection, intro to caravanning, dr. norm holman's 1935 airstream torpedo (the world's oldest airstreamer & trailer), shalom image's "appalachian trail", rv care inside & out (for both guys and gals), computer club meeting & demonstration, wbcci parade & picnic, plus, of course, the vintage airstream concours & public viewing. that's during the day. each evening there's a program of banjo players, or irish dancers, or singers, puppetteers, etc., followed by a couple of hours of either ballroom or line or square dancing.
whew. i'm looking forward to a restful vacation AFTER the convention ends on july 4th.
well, it's off to church in an hour, so i gotta get prettied up, find some long pants to wear, then get poised to DASH out to the shuttle bus when it arrives. it turns out we're parked right across the street from the "free wheelers", an airstream intra- or sub-club of single airstreamers. i just wish those women would stop sitting on the roofs of their trailers like frat guys, whistling at me and calling me "jailbait" and "stud muffin". i mean, i've never been turned on by blue hair that much. geeze.
29,488 miles since i got the trailer, and still going strong........
:j
Jim
---------------
Sent: Tuesday, June 29, 1999 9:05 AM
Subject: walkabout update, monday, 6/28/99
just another day at the airstream rally. sat around the campfire last night. the vintage folks brought out their banjos, fiddles, mandolins, spoons and mouthharps and we did a singalong until 10:30 last night, then lights out.
opening ceremony today. 161 wbcci units are represented here this year. i skipped my line dancing class today, had lunch in town, then tonight we had the tom daurgherty band, followed by the irish dancers. all of it was great.
i'm back at the trailer now. 8:45 pm. i hear the fiddler tuning up so i guess i'll head over to the hootenany.
:j
Jim
---------------
Sent: Wednesday, June 30, 1999 6:38 PM
Subject: walkabout update, 6/30/99
well, the weather cleared up today. today was also the open house for vintage trailers, and the concours (beauty contest) judging. i had about 100 people tour the trailer today. saw the insides of most of the other trailers, too. some are just unbelievable what the folks have done to fix them up.
i was up & scrubbing since 8am, so i'm exhausted now. gonna skip the evening program, fix a light dinner, then to bed.
:j
Jim
---------------
Sent: Friday, July 02, 1999 4:01 AM
Subject: walkabout update 6/30/99 B
one thing about hanging around with this older airstream crowd: when you wake up with a sore back and walk around stooped over, nobody even notices.
two things, actually: if you complain about back pain, EVERYBODY within earshot will tell you how theirs is worse, and how to fix your own........ no two pieces of advice being the same, of course.
:j
Jim
---------------
Sent: Friday, July 02, 1999 4:47 AM
Subject: walkabout update, 7/1/99
Minnesota aftermath:
Ole, Lena and Sven were lost in the woods of Northern Minnesota and were becoming desperate, having run out of food several days ago.
It was winter, the snow was deep, their situation was looking very bleak.
When Ole dug down into the snow to look for nuts, he found an oil lamp and upon rubbing it to get the snow off, a genie came out. The genie says, "I am da great genie of Nordern Minnesooota and I can grant each of you vun vish."
Ole says, "I vish I vas back on da farm." Poof, Ole was gone.
Lena quickly says, "I vish I vas back on da farm wit Ole." Poof, Lena was gone.
Sven was sitting there looking sad and the genie finally says, "Sven, vat is your vish?" and Sven says, "Gee, I'm really lonely. I vish Ole and Lena were here with me".
-------
Sven was going for his morning walk one day when he walked past Ole's house and saw a sign that said "Boat For Sale." This confused Sven because he knew that Ole didn't own a boat, so he finally decided to go in and ask Ole about it.
"Hey Ole," said Sven, "I noticed da sign in your yard dat says 'Boat For Sale,' but ya don't even have a boat. All ya have is your old John Deere tractor and a combine."
Ole replied, "Yup, and they're boat for sale."
---<>---
One day Ole goes in to see his doctor. Ole says, "Doc, I just don't know vat to do. Lena and me, vell, our sex life just ain't going dat vell."
The doctor says, "Ole, all you need is some exercise. I want you to walk ten miles every day. You give me a call in a week and let me know how you're doing."
So, a week later the phone rings and the doctor answers it. A voice on the other end says,"Doc, dis is Ole."
The doctor says, "Hello Ole. Have you been walking ten miles every day?"
Ole says, "Yaa."
The doctor asks, "And has your sex life improved?"
Ole replies,"Well, how da hell vould I know? I'm seventy miles from home!"
---<>---
Lena passed away and Ole called 911. The 911 operator told Ole that she would send someone out right away. "Where do you live?," asked the operator.
Ole replied, "At da end of Eucalyptus Drive."
The operator asked, "Can you spell that for me?"
There was a long pause and finally Ole said, "How 'bout if I drag her over to Oak Street and you pick her up der?"
---<>---
Ole was fishing with Sven in a rented boat. They could not catch a thing. Ole said, "Let's go a bit furder down stream." So they did and they caught many monstrous fish. They had their limit so they went home.
On the way home Sven said, "I marked de spot right in de middle of de boat, Ole."
"You stupid," said Ole, "How do you know ve vill get da same boat next time?"
---<>---
Ole and Lena were laying in bed one night when the phone rang. Ole answered it and Lena heard him yell, "Vell, how da hell should I know, dats over 2,000 miles away" and he hung up.
Lena says "who was dat, Ole?"
Ole says "Hell if I know, some guy wants ta know if da coast is clear."
--------
Ole and Sven got a job as airline pilots with Minnesota Airways. They took off on their certification flight in the new 747, circled Minneapolis airport, and came in for a landing.
"That runway looks pretty short, Ole."
"Ya, Sven, it do. Boot dat's vere we gotta go."
So they brought the plane in, their hearts in their throats. They touched down on the very beginning of the runway, immediately applied full flaps and reverse thrusters, popped the emergency parachute, and both pushed on the toebrakes for all they were worth. The plane screeched, shuddered and groaned, but halted inches short from the far end of the runway.
"Boy-o-boy, Ole, dat's vun short runvay!"
"Ya, und luuk - it moost be 5 miles vide!"
------------
Jim
---------------
Sent: Saturday, July 03, 1999 3:37 PM
Subject: walkabout update, 7/3/99
boy, is it hot! first it rains almost every day for a week, now it's cleared up and approaching 100 degrees in the shade. i've gotta get down to key west where the weather is nicer!
remember the concours d'elegance (beauty contest) last wednesday? well, they announced the winners this morning. you could have knocked me over with a feather when they called my name for honorable mention in "best in class". i mean, i saw the competition, and figured i was running "back in the pack." i NEVER expected that i'd win ANY of the categories!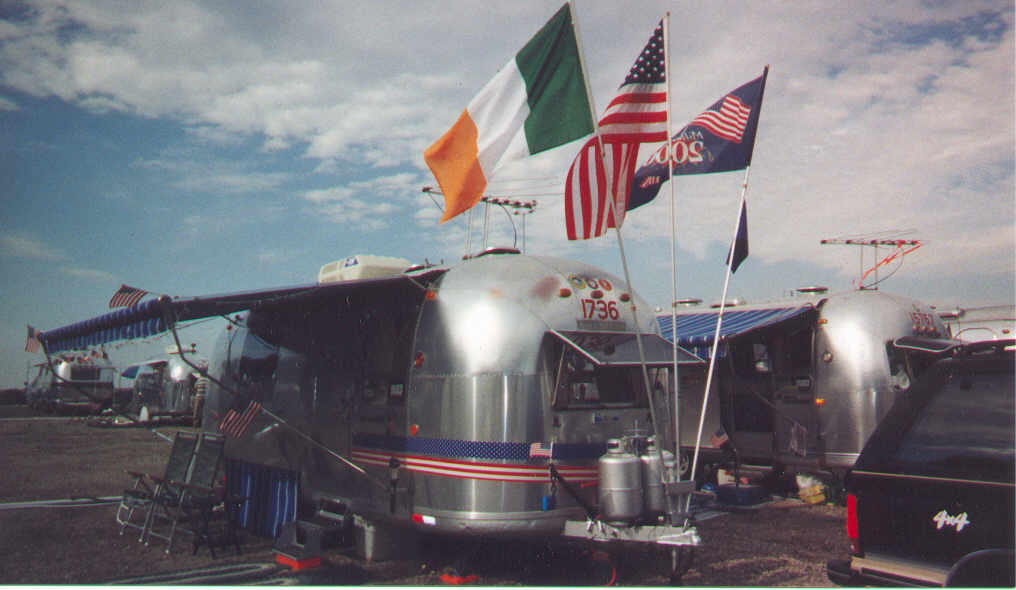 of course, i really have done a lot of work on the trailer, and it really does look great, but that's only MY opinion. needless to say, i'm really proud. i got a certificate AND a plaque to hang in the trailer.
well, it's off to the showers for my 2nd shower of the day (that's the only way to keep cool). fireworks tonight. that should be fun. (yes, i know it's the 3rd, but this is Ohio, remember?)!! :)
:j
Jim
---------------
Sent: Thursday, July 08, 1999 11:38 AM
Subject: walkabout update, 7/7/99
well, the dayton rally is over. i hitched up and left on the 4th, right around sunset, and headed for maryland. beautiful scenic tour of southern pennsylvania, and then came across the panhandle of maryland. hillier than i expected, and HOT. hot, hot, hot. made annapolis the 2nd day, right in time for their record heatwave. official high at baltimore/washington airport yesterday was 106 degrees. hot, hot, hot.
am camped in janice's front yard in annapolis. real pretty, but not enough electric for me to run my AC. so i'm sleeping in a hammock out in the yard. knew it'd come in handy when i packed it, 6 months ago.
from here, i'm going to run down to key west for a few days next week, then on to new england. rignt now, key west seems like it'll be a cool, comfortable retreat from the sweaty temperatures of the northeast!
:j
Jim
---------------
Sent: Thursday, July 08, 1999 11:53 AM
Subject: walkabout update 7/8/99
well, i'm over the heat here in annapolis. i'm off to the blue ridge parkway, and eventually down to key west. figure it'll take me 3 days. i'm leaving the trailer here in annapolis.
more later.
Jim
---------------
Sent: Saturday, July 10, 1999 8:46 AM
Subject: walkabout update, 7/9/1999
i'm forwarding the following because it gives a good summary of our week in Dayton, OH. well, pretty good, anyway. the writer, who obviously missed the awards breakfast on Saturday and winged his/her description, did neglect to mention my DOMINANCE of the awards ceremony with my BODACIOS Honarable Mention as Best in Class for my Beautiful 1968 Vintage Airstream Trade Wind Land Yacht, but, it's a pretty good summary aside from that.
:)
Subject: International Rally - Dayton, Ohio
- Thursday, June 24 Meet at pre rally site, Springfield, OH. The Wagon Wheels Way Caravan of 22 trailers, led by Clyde and Ellen Wagner, arrived at Springfield, to be greeted by an additional 71 Vintage beauties for the parade in to Dayton.
- Friday, June 25 11:00 Vintage Parade into Rally Site. The stream of trailers traveling down 70 and 675 was a beautiful sight. After a brief stop in lot 7 to raise our flags and be met by WBCCI President, R. C. Wagnon, the procession proceeded through the rally grounds for a short parade around the Nutter Center's flag pole. The Vintage Club took up permanent residence for the rally.
- Saturday, June 26 Community Service Project. The club's first ever community service project was very successful and will become part of each rally. Preston Pearson of the VAC, Ann Barrett, community service chairperson for the WBCCI, and the club members that participated in the Habitat for Humanity project are to be congratulated for their work on the project.
- Saturday, June 26 4:00 - 6 VAC Welcome Reception. One hundred and fifty plus members met at the Friendship Tent at the Wright Patterson Airforce Museum for fun and fellowship. It was a great way to begin the week's activities.
- Sunday, June 27 Community Service Project A morning thunder shower and threatening skies canceled our days participation in the Habitat for Humanity building project.
- Monday, June 28 1:00 - 2 VAC Board Meeting The board received the Treasure's Report - submitted by Patrick Ewing, the Nominating Committee Report by Clyde Wagner, Membership report by Dick Mumma, a report on Internet activity on both the Forum and the VAC Discussion List by Tom Howarth, 1999 Wagon Wheels Way Caravan Summary by Clyde Wagner, the new standards and categories for the 1999 Concours d'Elegance were presented by Tom Reed, the role of Regional Representatives was discussed, the need for regular Constitutional review was discussed, it was agreed that the dues structure remain the same as last year, the club's current use of it membership directory will be continued, the Membership Chairman was directed by the board to replace the DOS Membership Program currently in use, Tom Reed reported on prospects for the 2000 Wagon Wheels Way Caravan and candidates for 2000 Concours Steward's position. The board was updated on the club's annual breakfast and the WBCCI's 4th of July Parade.
- Tuesday, June 29 11:00 - 12 Don Grayson "Physics of Towing" Don's speech was well received. Don did an outstanding job providing the participants with very practical and useful information. Bottom line: don't drive over 55 when towing. Attendance 192
- Wednesday, June 30 1:00 - 4 Concours & Open House. The participation was outstanding. 70+ trailers were open for inspection by rally attendees and community members. Those that had visitors sign guest books estimated the crowd to be over 300. Club members made the rounds before casting their ballot for Member's Choice, the club's favorite Airstream. The club's revision of the concours categories was well received with half of the 70 trailers at the Vintage site participating in the Concours.
- Thursday, July 1 2:15 - 3:30 VAC Membership Meeting * Pledge of Allegiance - Tom Reed
Roll Call of Officers
Minutes of 1998 Annual Meeting - submitted by Mariann Pruitt
Treasurer's Report - submitted by Patrick Ewing
Correspondence
Recommendations of Nominating Committee - Clyde Wagner
Seeing no nominations from the floor a motion to accept the recommendation of the nominating committee was made and voted upon.
* Installation of 1999-2000 Officers by Mr. Norman Hewer, Past International President and Charter member of the Vintage Club
Reports:
Membership - Dick Mumma
Internet Site
1999 Wagon Wheels Way Caravan
1999 Concours d'Elegance - Tom Reed
Vintage Advantage - Tom Howarth
Blue Beret column - Terry Tyler
Community Service Project - Preston Pearson
Club voted to make a $250 contribution to Habitat for Humanity. A collection was taken after the meeting and another $138 were added to the club's contribution.
Old Business
Regional Representatives
Constitutional review
New Business
Dues structure
Membership Software
Medic Systems - Dick Mumma
Environmental Concerns - Dick Mumma
Announcements
Breakfast and awards
4th of July Parade - Tom Reed
2000 Wagon Wheels Way Caravan - Tom Reed
2000 Concours - Tom Reed
International Rally Picture - Kevin Allen
Special Event - Wright Patterson Museum Parking Lot - 2:00 p.m. Adjournment 3:30 - 4:30 New Board Meeting
Tom Reed's board discussed plans for the next year. Look for updates in future issues of the Vintage Advantage.
- Friday, July 2 9:00 - 10 Bud Cooper, "In Search of Wally Byam" A great talk presented by one of the foremost authorities on Wally Byam and Airstream. Bud provided the participants with an insightful look at early caravans and gave us a separate the myth from the man, Wally Byam.
- Friday, July 2 10:00 - 11 Dr. N. Holman, Jr., "The 1935 Airstream Torpedo" Bud's talk was followed by an equally informative presentation on the oldest known Airstream product the 1935 Torpedo, built from plans purchased by Norman Holman for $5.00. A slide presentation and early camping gear were included in this excellent seminar.
- Saturday, July 3 7:30 - 9 VAC Breakfast Berry Room, Nutter Center - The breakfast and Concours award's ceremony was attended by 150 Vintage Members. Tom Reed announced the winners and presented the awards.
- Sunday, July 4 1:00 WBCCI Parade - VAC Participation Parade participants included a 1936 Clipper, 1935 Torpedo, 1949 Two Door Liner, and concours winners in Best in Show, Member's Choice, and Best Tow/Trailer Combination.
- Monday, July 5 Departure
The Vintage Airstream Club. --------------------------------------------------------------
This message is being sent to you because you signed up to receive updates from The Vintage Airstream Club website at http://www.airstream.net/. Postings from this list are made fairly infrequently, but if you would prefer not to receive any updates in the future, please send a message to majordomo@airstream.net with the command 'unsubscribe announce your-email' in the body of the message. No subject line, and please disable any signature file. If you experience any difficulty, please email me at ewan@airstream.net with a list of the possible email addresses under which you may be subscribed.
---------------
Sent: Saturday, July 10, 1999 8:46 AM
Subject: walkabout update, 7/10/1999
so i left out of annapolis at 6am friday morning, spent a couple of hours seeing the sights in DC (yes, i got lost), then headed to western VA and drove down skyline drive in the susquehanna national forest, and then the blue sky parkway.
at one point, during a break, i was looking at the map and realized that i was only 150 miles from my dad's place.
so..... a cell phone call and a (relatively for me) short trip down US29, and i found myself in greensboro, NC, visiting dad. i guess i'll stay here another day, then get back on the road after church on sunday AM. current plans are to try to catch up with the midget and check out his new place in TN. but if my info is correct and he's on his way to KW to start moving up to TN, then i'm gonna spend a night at the collins ranch in GA, then on to KW.
whatever. i'm finding it best not to make any plans beyond where i'm going to eat my next meal, and even that i'm keeping flexible . i might get an emergency phone call from some weird place like CT, and then have to change all my plans..... who knows? i've gotta be in MI for cheryl's wedding on Aug 14th. other than that, i'm taking it a day, no, AN HOUR, at a time.
smiles. miss you all......
:J
Jim
---------------
Sent: Sunday, July 11, 1999 11:19 AM
Subject: walkabout update, 7/11/99
well, off i go again. next stop millen, ga later this afternoon, then on to KW in the AM.
:j
Jim
---------------
Sent: Wednesday, July 14, 1999 7:23 AM
Subject: walkabout update, 7/13/1999
well, i arrived safe-and-sound in key west late yesterday (monday) afternoon. Greensboro, NC was soon left in my wake.....
reprise:
it was great to see dad for the 3 days i was up there in greensboro. he's really doing well after having his entire "good" knee replaced just 3 months ago. old age shrinking has set in, too. he's shrunk 2" now, total, and we're almost eye-to-eye. it's one thing to read about, it's another to measure each other on the garage wall, which we did. leave it to dad and me to make a science project out of this. dad's had his wooden leg replaced with a shorter one, to compensate for the shrinkage. it IS a hoot........ dad takes it so well.......
key west:
in addition to the 2 crates of mail larry & richard had left for me in GA, there were 4 more crates here, along with a couple cases of souvenirs i'd shipped to KW for safekeeping.
it's strange to be back home after a 4 month absence. even stranger that i'll only be here for a week. it sure is just the same. and yet, it's different. hard to put my finger on it..... maybe it's just that I'VE changed????????
i expect i'll be busy all week with sorting mail, paying bills, truck maintenance (30,000 miles, new brakes, whatall & whatnot), storage shed, post office, shopping, pub, pub, pub, etc., etc. somewhere in there, probably this weekend, i have to help meggs get packed.
i'm off to cates automotive....
:j
Jim
---------------
Sent: Monday, July 19, 1999 11:19 AM
Subject: walkabout update, 7/19/1999
well, i've had about enough of key west for a while. larry meggs finally made it down here, so we're going to load up one trailer tomorrow AM for me to haul, then i'm heading off to my mother's for a few days. once larry gets finished with his other packing down here, we'll meet up in palm beach, then it's off to tennessee for a week (with 4 vehicles, and 4 trailers full of stuff. this should be interesting...... :)
never did catch up with collins while i was here. maybe tonight at the pub.......
:j
Jim
---------------
Sent: Wednesday, July 21, 1999 10:25 AM
Subject: walkabout update, 7/21/99
well, key west has been fun, but it's too expensive to hang out here for long.
i'm out of here today. i've got a u-haul trailer full of stuff for larry's house in tennessee, and am going to stop off and see mom for a day or 2 before i go on up to TN.
actually, i'm really looking forward to touring new england!
:j
Jim
---------------
Sent: Thursday, July 22, 1999 7:39 PM
Subject: walkabout update, 7/22/1999
well, i made it to my mom's place in boynton beach with no problems. she's kept me busy all day installing towel racks, shelves and light fixtures.
i'm hauling a trailer load of stuff for larry meggs to TN. larry & katie & barbara are supposed to catch up with me here tomorrow morning & we're going to convoy the 4 vehicles to TN.
i sure hope they make it tomorrow. mom's thinking of painting the living & dining rooms........
:j
Jim
---------------
Sent: Wednesday, July 28, 1999 10:31 AM
Subject: walkabout update, 7/23/1999
just about ready to hit the road, but took Mom to winn dixie this morning. while i was there i checked my weight on the good scale....
wow. i gained 15 lbs in the week i was in KW. boy, that's some town!
:j
Jim
---------------
Sent: Wednesday, July 28, 1999 10:31 AM
Subject: walkabout update, 7/29/1999
well, i've covered a lot of ground since i left key west.
larry's place in TN is absolutely beautiful. it's in the heart of the smokies, 6 miles up a mountainside. it was so nice that i spent an extra night up there. of course, finding a spot flat enough for my tent was a challenge. his "26 acres" is pretty hilly. so hilly, in fact, that it measures out to be only 18 acres when viewed from above. still, i really liked the area.
drove the length of the smokies again the next morning, and finally got back to my trailer that i'd left in annapolis. after being gone 12 days it was good to be back home again. spent the night there, then made the long drag from annapolis to cape cod.
it's a wonderful time of the year to make the trip. new jersey was real green, and didn't smell nearly as bad as i remembered. traffic on the garden state parkway, as i skirted new york city, wasn't bad at all.
i've visited connecticut, rhode island and massachusetts so many times in the past that i've decided to head on up to maine today. maybe i'll go as far as fort kent, if only to see the other end of US1.
it's sure a lot cooler here in cape cod than it was in annapolis. i'm really enjoying the weather.......
Jim
---------------
Sent: Wednesday, August 04, 1999 9:50 AM
Subject: walkabout update, 8/3/1999
well, now i've seen it all. folks pulled in next to me with a small pop-up camper, and after setting up only half the camper, they got out their dss satellite dish, adjusted and aimed it, and got their TV working. they're now setting up camp while watching TV. huh!
i'm in cortland, NY, now. i've covered a couple of thousand miles since my last update, but i just haven't felt like writing. northern maine was very pretty and very canadian-like, new hampshire was like a picture book, and vermont was full of memories for me. cape cod was as beautiful as always, and the food at provincetown as mediocre as i remembered it.
i'm absolutely in love with the mohawk valley here in NY, and am staying for a few days to enjoy it more. off to MI for cheryl's wedding later this week.
":j
Jim
---------------
Sent: Saturday, August 07, 1999 12:33 PM
Subject: walkabout update, 8/1/1999
funny, i don't remember being absent-minded.
":j
Jim
---------------
Sent: Friday, August 06, 1999 1:59 PM
Subject: walkabout update, 8/6/1999
so today's rambling travelogue finds our-burnt out wayfarer finally in the last of the lower 48 states, Michigan.
after a mind-boggling drive through southern new york state i crested the last mountain as i entered upper pennsylvania, had a breathtaking view of lake erie from ahigh, then descended to the coastal plains of the great lakes and endured 400+ miles of mind-numbing flatlands and high-speed traffic, finally arriving at my sister's home in Westland, MI, a suburb of detroit.
i was to park the camper in her driveway for a couple of weeks; of course, the roofers are still here, so i'm driving around the block as i write this. the rig is so long that it's impossible to park without blocking at least 1 driveway...... it's 11am; they should be done by 3pm, so i'll just keep going around the block.....
i hope they don't have to come back tomorrow to finish.........
i never realized that you can't find a campground in the city. i haven't even slowed down around a city in the last 36,000 miles. here we are on the western fringes of Detroit, 30+ miles from downtown, and it's still at least a 30 minute drive to the nearest campground; most are an hour away and more.
i'd park my trailer in the front yard, but you know how valuable these "lawns" are. i have to say this, though; they sure are green and thick.
not at all what we call "a grassy front lawn" in key west. cheryl was complaining because the roofers took a "divot" out of her lawn. i mean, this lawn is nicer that either the fairways OR the greens at the key west golf club. but still, a "divot". geez! i guess this means i can't replace my transmission in the front yard like i'd planned, either. fussy, fussy, fussy........
i wonder what the neighbors will do when i put out the flock of pink flamingos?
i was afraid the flamingos might get shot up when i put them out around collin's farm in georgia. really. i mean, i expected to come home one afternoon and find them riddled with shotgun pellets. these people, though, will probably threaten me with a "petition". oooooohhhhhhhhh........... scary.
it sure is gray & cloudy up here. cold, too. supposed to be a "high" today in the "70's". well, maybe...... if the cloud cover breaks, it MIGHT hit 70. ha! i thought august was a "hot" month in michigan's 3-month-long warm season. i've been gone from here for over 20 years; i expected the many changes & growth i've seen, but i'd forgotten how "comfortable" (THEIR words) it is up here.......
":j
Jim
---------------
Sent: Monday, August 09, 1999 12:57 PM
Subject: walkabout update, 8/9/1999
well, i've gotten the trailer parked in my sister's yard, and am all settled it.
i'm having an absolutely wonderful time! my son spent the day here yesterday; he's 26 now, and quite the young gentleman. his mother did a great job with him!
my neice is pretty cool; she's 7 going on 17. my nephews, at 13 & 15 are just great for me. we've been doing tons of stuff together; they spent the night here last night, they're here all day today helping me clean & fix up around the trailer, we're going camping together next week, all that neat stuff.......
it's absolutely grand. i wish i hadn't stayed gone for over 20 years like i did......
":j
Jim
---------------
Sent: Tuesday, August 10, 1999 6:00 PM
Subject: walkabout update, 8/10/1999
whew! these kids are wearing me out! i took 4 of them, from 7 to 15 years old, to a musical version of a cinderella play at the outdoor music festival, 1.5 hours (each way) from here. left here at 9:30am, got back at 5pm........
i'm exhausted. i bought everyone hot fudge sundaes on the way home. BIG mistake. Sugar Rushes for the kids. 45 miles of wrestling, all the way home. i'm gonna lock the door and sleep all day tomorrow.
it's been something all day, every day, with the nieces & nephews, since the day i got here. i've gained a new respect for those who perform the Parent roll full time........
my niece and her friends (they're all 6-8 and going on 17) think the "big silver twinkie" that i brought with me (my airstream trailer) is the world's neatest kid's fort. i've been asked to vacate the premises, as THEY'RE taking it over, since it's OBVIOUSLY built specially for kids! they especially like the fact that it comes with a complete computer & scanner system........ AND tv....... and vcr........
having a ball. might never leave michigan.......
":j
Jim
---------------
Sent: Monday, August 23, 1999 8:41 AM
Subject: walkabout update, 8/23/1999
Well, I think I'll wrap up this "walkabout update" thing, and that this will be my last "dispatch from the road".
I've now covered over 38,000 miles traveling the US this year and have visited all of the lower 48 states. I've seen hundreds and hundreds of sights that have taken my breath away and totally amazed me. I've stood on so many mountaintops and cliffs that I no longer feel any sense of vertigo when looking down over a precipice. I've visited more McDonalds than Ronald himself has. I've seen over half of the national parks in the country this year.
Most notable is that I've spent all of my travel funds and have only my "seed corn" left. So it's time to settle down again.
I guess I've saved the best part of the trip for last, because the times I've had in the last 2 1/2 weeks with my family have been the absolute greatest. Cheryl's wedding was the most beautiful one I've ever been to.
My brothers and sisters have all turned into fine adults. My nieces, at 7 years old, are absolutely precious. My teen-aged nephews are like blank slates, ready for their lessons and SO impressionable and eager to learn. And my son, now grown up, is a fine young man that I'd really like to get to know better.
So....... I think I'm going to hang around here in Michigan for a while. I think I'll rent a house and find a job. I'm not sure if I can take the cold, snowy Michigan winters or not, but I'm going to give it a try. (note that I said "rent" and not "buy" a house; this is going to be a trial period for now.) :)
I'll keep you posted......
":j
Jim
---------------
Sent: Sunday, August 29, 1999 12:37 AM
Subject: walkabout reflections.....
Ah. . . Wilderness!
Actual comments left on Forest Service registration sheets and comment cards by backpackers completing wilderness camping trips:
"A small deer came into my camp and stole my bag of pickles. Is there a way I can get reimbursed? Please call."
"Escalators would help on steep uphill sections."
"Instead of a permit system or regulations, the Forest Service needs to reduce worldwide population growth to limit the number of visitors to wilderness."
"Trails need to be wider so people can walk while holding hands."
"Ban walking sticks in wilderness. Hikers that use walking sticks are more likely to chase animals."
"All the mile markers are missing this year."
"Found a smoldering cigarette left by a horse."
"Trails need to be reconstructed. Please avoid building trails that go uphill."
"Too many bugs and leeches and spiders and spider webs. Please spray the wilderness to rid the area of these pests."
"Please pave the trails so they can be plowed of snow in the winter."
"Chairlifts need to be in some places so that we can get to wonderful views without having to hike to them."
"The coyotes made too much noise last night and kept me awake. Please eradicate these annoying animals."
"Reflectors need to be placed on trees every 50 feet so people can hike at night with flashlights."
"Need more signs to keep area pristine."
"A McDonald's would be nice at the trailhead."
"The places where trails do not exist are not well marked."
"Too many rocks in the mountains."
Sooooooo........ I felt I had to get my walkabout done while the getting was good! In a few more years, who knows? Paved trails only on the flatlands, with McDonalds at the trailheads?
:(
":j
Jim
---------------
Sent: Thursday, September 23, 1999 2:25 PM
Subject: walkabout update, 9/23/99
thought these walkabout updates were done, didn't you? well, so did i.
that is, until i spent a bit of time here in michigan. and i remembered/saw how intense everybody was about their jobs. and how cold the weather gets. and the traffic (lots and lots of it). and how drizzly the cold weather often is. and how much everybody drives every day (100 miles a day seems the average around here). and how gray the cold, drizzly days are. and the stress levels. and the cold weather. and urban sprawl. oh, yes! did i mention that it's Really Cold up here? here it's just the first day of fall and temps have been in the 40's. i mean, it's been in the 40's A Lot!
so........... i'm going back on the road. heading for west virginia to look around some more, but i expect i'll spend the winter in florida and then go farm hunting again in the spring. right now i need to thaw out, so i expect i'll be in key west about a week from right now. i figure i'll drop the trailer in west virginia, then buzz on down to the keys and stay with jimmy & susan for a week or so.
if anyone knows of a computer-related position in KW, let me know, 'cause i need something to do for the winter. otherwise, i've got a job offer in daytona beach that i'll probably take.
anticipated departure from the detroit area is next tuesday, 9/28. i'll keep you posted.
":j
Jim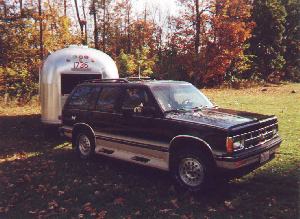 ---------------
Sent: Friday, October 01, 1999 7:11 AM
Subject: walkabout update, 10.1.1999 B
it's not like i'm sitting around the trailer doing nothing in this cold weather. i did manage to accomplish this website in the last few days:
http://jim.Carey.home.att.net [note: this website is down. Old stuff.]
":j
Jim
---------------
-----Original Message-----
From: RPJACKMAN
Sent: Friday, October 01, 1999 7:09 AM
Subject: Re: walkabout update, 10.1.1999
It's 40 here right now!!!!!! Judging from the background noise at Finnegan's last nite it "sounded" quite warm there!!! You'll probably just miss the midget. Thinks he'll be on his way back in 2 - 3 days. Warms up to the 70's daytime. Katie is "freezing". For an upper penisula gal she's got some re-acclimating to do!!!!!!!!!
bj
:::::::::::::::::::::
Sent: Friday, October 01, 1999 7:14 AM
Subject: RE: walkabout update, 10.1.1999
oh my god! how far south do i have to go before it's warm?????????? i thought west virginia or tennessee would be a lot warmer than here?
":b..rrrrrrrrrrr
--------------------
Sent: Saturday, October 02, 1999 8:10 AM
Subject: walkabout update, 10/2/1999
my brother called last night. wanted to take me to a football game at his alma mater (michigan state) today (saturday). in my ignorant innocence, i say "sure".
weather this morning? Solid Overcast. it's 8am right now and it's still not dawn yet. it's kinda sorta getting light out. the sky sure is black. you can't even SEE michigan on the weather sattelite photo. it's supposed to rain all day (if it doesn't sleet). of course, the high today is supposed to be something like 61 degrees (that's farenheit, not celcius). humph!
i'm SURE the first thing my brother mark will say this morning is something like "GREAT football day, bro!"
geeze! how much i'd forgotten. meanwhile, i'm wearing every single article of clothing i own, including BOTH of my rain panchos! darn! i can't find my umbrella! shoot!
well, gotta go. only have 90 minutes to get ready, and i've got a lot of dressing to do! catch the game on TV and watch for me; i'll be the fat guy in a yellow pancho who can't move his arms.
":j
Jim
================
Sent: Saturday, October 02, 1999 8:34 AM
Subject: walkabout update, 10/2/1999 B
just wanted you to know that when i went outside i could see my breath!
":j
Jim
---------------
Sent: Sunday, October 03, 1999 1:37 AM
Subject: this speaks for itself
i'll tell you more tomorrow about how today went, but at the moment i have 2 of my 3 furnaces going, and i came home from the "game" to THIS on my PC (bear in mind that this is like the 4th day of "fall"):
NATIONAL WEATHER SERVICE
SEVERE WEATHER ALERT!
1018 PM EDT SAT OCT 2 1999 ...FROST/FREEZE ADVISORY TONIGHT...
TEMPERATURES WILL DROP QUICKLY INTO THE 30S AROUND MIDNIGHT WITH THE COLDEST READINGS OCCURRING BETWEEN THE HOURS OF 4 AM AND 8 AM.
-------------------------------------------------------------------------------
":j
Jim
---------------
Sent: Monday, October 04, 1999 5:24 PM
Subject: walkabout update, 10/4/1999
well, my predictions for the football game last saturday (msu vs. iowa) were correct. i wasn't at my brother's place for more than 5 minutes when he said "sure is a great day for a football game," despite the fact that it was about 49 degrees (F) and raining. "at least it isn't snowing," he continued.
furthermore, the weatherman was wrong about Saturday. it only got up to 56 degrees, not the balmy 61 that was predicted. gray and drizzly all day.
so as i shuddered in the stands (i see, now, why they're all bleacher seats; you sit closer & keep each other alive with your body heat); anyhow, as i shuddered in the stands i was told, not only by brother mark but by the other alumni around us (that's old folks that've been doing this for 50+ years), everybody said, "oh! this isn't even a drizzle, yet! and at least it's not snowing!" they repeated this, like a mantra, every time the other team got the ball.
we were in the alumni section because little brother graduated from "moo U" a few years back. i don't remember his major; it was either cow milking or goat milking.
moving along: so there we were, squinting through the gloom, shuddering only slightly due to shared body warmth of the mob, "not quite drizz..zz..zzle" dripping from the brim of my cap, trying to see this american football game (no, you're thinking of soccer. this is more like rugby).
what kept me alive was that michigan state ("our team") scored a touchdown like every 5 minutes, which kept us on our feet, stomping the feeling back into them, waving our arms to stimulate our circulation, as we "cheered" (called for blood?). the final score was 49 to 3 over Iowa. talk about goring the enemy! i think something like 32 iowa fans died of exposure that day because they: 1. didn't sit close enough together, and 2. they didn't have anything much to wave their arms and stomp their feet about. you'd think that people from iowa (which is even farther above the artic circle than michigan) would at least know to huddle together in a storm (like turkeys). perhaps, since this was "hardly adrizzle" instead of the blizzards that they're used to, they underestimated the personal danger. yea, i'm sure that's what it was. they thought it was just another "summer rain" in Iowa.
if you've been to iowa you know what i mean (right, Linda?).
anyhow, it was fun to be on the winning side after going to that detroit lions pre-season game. that game was like watching a steamroller going over fresh asphalt.
i didn't write my update saturday night because of the freeze warning when we got back (almost midnight. we MIGHT have stopped by a party or two--hard to remember. hic.). anyhow, after all that prep it "only" got down to 42 degrees.
so of course, when they gave the same prediction for freezing temps on sunday night i ignored them, only to wake up to a frozen water hose this AM (remember, i live in the airstream and that's how i get my water). my son's like, "oh, that's OK. at least it didn't burst. it should be thawed out by noon." gee, whiz!
actually, since the sun came out (for 67.5 minutes today), the hoses did thaw. as soon as they did i got them packed. the sun came out just enough to dry out the awning and chairs, which i also promptly packed away. the sun didn't, mind you, stay out nearly long enough to dry out the green moss that's growing on everything, but i'm not even going to worry about that until i get back to the temperate zone. the siver streak has acquired a definite greenish tinge in the last 3 weeks.
my dad had an operation on his throat last thursday (something about sleep apnea), so i'm heading down to visit him for a few days. i figure since he can't talk right now (a temporary result of the operation), well, i figure i'll hide his wooden leg, and i can say Anything I Want. Haaaaa,hahahahahaaha! hey, this could have definite possibilities; anybody have any requests?
as usual when i'm on the road, my email will be a bit more intermittent, since my cell phone modem often will only connect at 2400 baud, which brings an entirely new meaning to "patience" and "world-wide-wait" (www.com). and you all know how infinitely patient i can be.... :)
anyhow, i've stayed alive by keeping inside with 2 or 3 of my furnaces going. i figure i'm generating about 18,000 btu/hr trying to heat my tin can, but it's working. now if i could just figure out how to siphon propane from the neighbors like we used to siphon gasoline......
well, gotta run. time to chip the frost off the windows again (if you don't do this before dark every day, you get "snowbound" or something).
miss you all. talk to you soon!
":j
Jim
---------------
Sent: Thursday, October 07, 1999 4:53 PM
Subject: walkabout update, 10/7/1999
well, i'm in North Carolina now. i got in last night (Wed) around 7pm.
finally got away at 10am on Tuesday. i finally realized that i was stalling around because i didn't know how to say goodbye to my son. finally, he chased me away so that he could get to work. we had a great goodbye, and probably took two dozen photos between us.
getting back on the road felt positively strange. it sure was nice to have the cruise control working again. southeast michigan and ohio were still as flat as always. kentucky was as beautiful as always, but i hadn't expected the 24 degree low we had Tuesday night in kentucky! fortunately i have this heater thing all figured out.....
i skipped west virginia because of brother mark's crime report, and brother art's weather (it's COLD!) report.
dad took me to dinner last night. the waitress told us we couldn't have a couple bottles of killian's red because they "don't serve mixed drinks." i showed her where the killian's was in the cooler. the "restaurant" was a real hole-in-the-wall. as a matter of fact, that IS the name of the place: "Hole-in-the-wall." yep, i can tell i'm back down south!
what else? oh, yes. i'm getting my "y'all's" and "yes'm"'s back together again. it was pleasant speaking my native tongue for the last 2 months up north in Mitchagain; now i've gotta relearn the local dialect.
i'm gonna spend a couple of days here with dad. he's Just Fine after his throat operation (sleep apnea), and talking again. next, i think i'll back up 60 miles and see sister monica in western north carolina (she has 10 horses, so you can imagine how many ways i'm gonna hurt by this weekend)! after that....... probably down to the keys, though i might stop in GA for a day or 2....... anyhow, it IS warmer here in NC, but what they call a "beautiful day" around here is still pretty chilly!
until later.....
":j
Jim
---------------
Sent: Monday, October 11, 1999 12:55 PM
Subject: walkabout update, 10/9/1999
well, i made it to Monica's just fine. spent the day with Darrell today touring their farm and this "neck of the woods."
the ranch they've built is absolutely beautiful. i don't know what i was expecting, but this part of the state is absolutely beautiful, and they have lots and lots of riding trails to enjoy their 10 horses on.
to top that off, Darrell and i hung around in "town" (Love Valley), and the folks i met were really great. all-in-all, they sure have built themselves a wonderful life here.
i'll let you know what happens if they let me ride a horse! :)
":j
Jim
---------------
Sent: Wednesday, October 13, 1999 9:00 PM
Subject: walkabout update, 10/13/1999
well, i left monica & darrell's today (love valley, NC), and made it as far as Rock Hill, SC, before i broke down.
yep, broke down. first time ever in this truck. left sitting on the side of the road. i was cruising I-77 southbound, defying the rain with my new michelin tires, enjoying my newly repaired cruise control, water temperature normal, oil pressure normal, gas OK, alternator OK, radar detector quiet, satellite navigation system showing 200 miles to millen, GA, nothing on the CB or VHF radios, when "poof", the engine quit running. no warning, nothing funny beforehand, the engine just quit running while cruising along at 55 mph. everything works, the truck turns over and all, it just won't start.
sssooooooooooo, AAA got me and the trailer (thanks to cell phone technology) to Burch's Auto Service on Industrial Road in Rock Hill. i've got electric, water, sodium vapor lighting, and i'm now assistant night watchman. the nearest house must be a mile away. the business next door is a Huge Junkyard ("auto recycling and used parts"). the head watchman here is named "spike". spike's about 2 1/2 feet tall, black, with 3 or 4 rows of pointy teeth. he's half doberman, half rotweiler, and half junkyard dog (apparently is was a gang-rape with his mother). the guys here at the shop say that spike "probably" won't bite me since they've told him i'm OK, but still, i shouldn't go outside without the cattle prod they loaned me.
anyhow, all-in-all i feel pretty safe here, what with the dog, the electrified fence, and the cattle prod. the boys said they'd take a look at my truck first thing in the morning, around 7 am. hopefully it's something simple and cheap like the fuel pump. probably it's something simple and expensive like the computer module. with luck i'll be out of here before monday (jesus is teaching me patience, now).
so i've got a quiet night at home, so to speak. and i got to thinking.
have i mentioned my insight on michigan girls? i realized that you never realize what their figures look like because of all the clothes they wear, just like eskimo girls. that must be why they all look so sexy; it's their formlessness. the closer i got to the coast, the more i noticed. not that any of this matters; i'm, like, "totally celibate" now. (however, darrell introduced me to a cowboy (about 75) that was on his 8th wife. so maybe there's hope for me yet!)
i told you about the hole-in-the-wall restaurant dad took me to in greensboro, NC. that was Nothing compared to the places i went toaround darrell's and monica's place in love valley (great name, no?). i mean, they are SO out in the country that the highway patrol travel in pairs for their own safety. when the sheriff went to shake my sister's hand, she asked if he wanted a payoff or her vote. it turns out it's election year, so he wanted her vote. he asked if i was registered to vote. darrell said i wasn't a resident; the sheriff didn't see what that had to do anything, and offered to send someone over to their house with a voter registration card and an absentee ballot for me.
that was yesterday morning. i spent the afternoon yesterday shoveling shit for monica. yep. shoveling shit, literally. monica & darrell had me out in the barn for 3 or 4 hours. i cleaned all the horse stalls (that was the shit shoveling part), then shoveled out the pickup load of sawdust into the stalls. do you have ANY idea how much shit and sawdust 10 horses generate and require? it was a Whole Bunch. however, they DID allow me to pet the horses, in exchange!
then i watched monica spent an hour working with the 9-week-old colt. that was SO CUTE! almost unbelievably cute! i also made friends with their palimono "little bit" over the last couple of days. i just hope m&d don't find out how much sugar i fed that mare to get her to be my friend! the ranch, the house, the barn, the land that monica built (on) are just incredibly beautiful. i almost signed on to be their full-time hired hand (it pays $30 per month and all-you-can-eat, but when m&d saw how much i can eat, they withdrew the offer!)
every morning darrell and i went over to jordan's texaco for coffee. what a crew hangs out there! boy-oh-boy, do those country boys know their stuff! i can't believe nasa put a man on the moon without stopping by and checking with these boys to make sure they were doing things right. that's probably why nasa lost that mars probe a couple of weeks ago.
darrell took me for a drive or two around the countryside. boy-oh-boy, is it pretty! and personality like you wouldn't believe. if it wasn't so cold up here (they call this the south! HA!); anyhow, if it wasn't so cold i think i could like it here. last night we drove into statesburg and went to dinner at the red lobster. i had red lobster for dinner, of course.
what else? i'm heading to GA next, for a day or two, and then on down south to KW. it's time for me to go back to work. i figure i'll "park around" (it's sorta like "sleeping around", but without sinning); anyhow, i'll park around for a week or two until i find a place to rent. i've been thinking about sugarloaf key and big pine, since i'll need a place for my trailer (and i'm also pretty used to "wide-open spaces"). if anyone has any leads, let me know. i'm REALLY ready to live in a house again, after living in this tin can trailer for ten months.
i miss having a microwave oven most of all. secondly, i miss my friends
(the priority of numbers 1 & 2 is fuzzy :-) ). third, i'm tired of being a stranger in a strange land all of the time. fourth, i miss "my" computer system.
talk to you soon! now, to fire up the infamous "cell phone modem" and spend the next 45 minutes sending out my 3 emails.
":j
Jim
---------------
Sent: Friday, October 15, 1999 10:27 AM
Subject: walkabout update, 10/15/1999
well, i finally got out of the auto repair shop in SC around 3:30 yesterday. it was the fuel pump. of course, it's a special electric one that mounts inside of the gas tank, so there's several hours of labor and an expensive part involved; $329 later i'm back on the road.
the rest of the trip to GA was uneventful. those mountains all of the way across south carolina sure are pretty. passed a county fair outside of statesboro, GA, last night; might go back there tonight. i got to the collins ranch around 10 pm. looks like all's well. it turns out i have the place to myself; i'd halfway expected some bow hunters to be here using the place.
i drove into millen this morning to have breakfast at the huddle house. 30 minutes later michele (my wife #4) walked in. she'd seen my truck in the parking lot. so we chatted for ten minutes when her daddy, george bowen, walked in. since she works for her dad, and she was late for work, she shot out the door. george & i chatted for a bit; everything's OK between all of us and i've been invited over to supper. i think i'll pass; smells like a setup for a rekindled romance! i'll pass on that, thank you!
boy, is the countryside flooded around here. all year i've been hearing about "the drought in georgia", and now i find all the ponds, streams, creeks and lakes are full! i dropped in on local buddy howard norris; it seems they had 5 1/2 inches of rain 2 nights ago, and lots more expected tonight and all weekend (in addition to the approaching hurricane). that's two rough years in a row for the farmers hereabouts. if i had a farm around here i'd plant pine trees and go work in town!
meanwhile, there's a yellow dog (almost a pup) living under the porch here at richard collins' place. poor thing. there's a food bowl in the yard where someone's been feeding her, but it was empty when i pulled up. when i offered her a hot dog she about split herself in half; she's terrified of people, but REALLY wanted the hot dog. i couldn't get her to come closer than about 3 feet from me when i tossed her bits of the hot dog. she's really, really skittish. i'm sure when howard comes over later today he'll have a whole story about her. she spends all of her time under the house, scratching and biting at her fleas. guess i'll have to do something about all this while i'm here. let's see what howard has to say......
well, i'm gonna run into waynesboro and get some propane; i'll need it to keep the trailer dry this weekend (humidity, NOT leaks).
":j
Jim
---------------
Sent: Saturday, October 16, 1999 8:40 AM
Subject: walkabout update, 10/16/1999
cancel the sob story about the dog. i guess i'm destined to always be a sucker for a hard-luck story (or maybe it's because it was a female groveling at my feet).
it seems the "poor yellow dog" showed up at the ranch several months ago, and howard's been feeding her ever since. "maybe she'll bark and scare people off," he reasons. well, that might be a stretch, because she didn't even peep at me, just came to me begging for food and attention. "she was half starved," i wrote. well, she's a puppy. she acts that way all the time. "flea infestation," i wrote. well, yes. i got her some of those flea drops and she stopped all the scratching and biting within a few hours. i'll leave the drops here for howard to use. closer examination, however, has shown that most of her sores are not from scratching, but from hitting her head on the bottom of the house!
out in the toolshed is a 50 lb. bag of dog food, with perhaps 5 lbs. left in it. i figured that howard would feed the dog the same food he feeds the fish in the pond, but no, he bought yellow dog her own food. of course, city boy (me) bought a 10 lb. bag of dog food that cost $20. howard got a 50 lb. bag at the feed store for $5. i just hope yellow dog will still eat howard's food after i leave, and doesn't get spoiled by eating my fancy stuff (when howard fed her yesterday afternoon she sniffed at it and crawled back under the porch. howard wondered if she was sick!)
i'm happy to report that she DOES bark; at 4:30 this morning she started barking, and went on for about an hour. looking out the windows, all i saw in all that time was another hunting dog, and yellow dog scared her off, eventually. at least richard can relax in the knowledge that yellow dog will keep his ranch safe from other strays!
i find it interesting that, while i've been up since 4:30, yellow dog is still, at 8am, sound asleep under the house.
i got more response yesterday from my fuel pump story than any other walkabout update i've ever written. i guess that makes 10/15/1999 my "most popular column ever." a general response to the most frequently asked questions (FAQ):
1. yea, i, too, thought they were kidding when they told me that the fuel pump was in the tank. $185 in parts, plus 3.5 hours labor to fix! geeze! i remember when a fuel pump........ well, you know! putting the fuel pump in the tank is usually a Ford feature, but apparently chevy has been hiring ford engineers lately! :)
2. yea, yea, yea. i know that the way i came wasn't the most direct route to Millen. but this is still (or once again) walkabout, remember? i wanted to take a different route than i've taken the other trips through here that i've made this year, and i wanted to see how much the I-26 corridor has changed since the last time i drove it, about 15 years ago. it's not like i have to get to work or anything. :)
i tried to go for a walk over to the cabin yesterday, but all of the pathways are still under water from the rain they had earlier in the week.
i thought of driving over there, but then remembered how i got the 4x4 stuck up to the axles in that driveway last year. maybe i won't bother checking on the cabin. or maybe i'll go into town and get a pair of waders today. it's wet enough around here to justify the investment! of course, the mosquitos are so bad that it's tempting to not go outside at all.......
":j
Jim
---------------
Sent: Saturday, October 16, 1999 5:33 PM
Subject: walkabout update, 10/16/1999, part 2
so i got a dog collar and a leash for "yellow dog" while i was in town.
why, i'm not sure. maybe i had thoughts of "rescuing" her. anyhow, when i got back to the ranch i called her (pretending i had food), and she crawled over to me on her belly as she does (i said she was submissive). anyhow, while rubbing her belly i slipped the collar onto her. she was in such ecstasy that she didn't even notice what i did.
so after a couple more minutes i stood up and stepped away. she looked at me, smiled, then swiped at her new collar, like you'd do to a fly that was bothering you. then she swiped harder, then scratched at it.
here we go, i thought. she started pawing at the collar, trying to get it off. i went into the trailer so that i wouldn't laugh at her (and also to wash the doggie stink off). i figured she'd adjust to the collar in a few minutes. yea, right! less than 5 minutes later i heard her crying around the corner of the house. i got my shoes back on, walked around the house, and there she was, hobbling around on three legs. she'd managed to get one paw trapped up under the collar, and was crying and carrying on like she'd been hit by a car.
like i said, she's real shy around people, and when i tried to catch her she'd hobble off, crying all the more. anyhow, it took a couple of minutes to catch her. well, yes, to tell the truth, i caught her when she got her other front paw stuck in the collar, too. that brought her to her stomach, and she bulldozed herself across the front yard with her rear legs. actually, i had trouble catching her because i was laughing so hard. she really wasn't moving very fast anymore.
so anyhow, i finally got ahold of her, freed her paws & removed the collar, and NOW i'm her HERO! she follows me EVERYWHERE, tail just a wagging. she has absolutely no fear of me anymore, and comes right up to me whenever i call her, or even look directly at her. (that's why i know she doesn't realize that I'M the one that put the collar on her in the first place. but don't tell her, OK? and don't tell ANY of this to Howard Norris; i think he's taken a real liking to this dog.) when i go into the house, she lies at the door. when i go into the trailer, she lies at that door, instead. i'm going to have to abandon my doormat because of the stink she leaves behind, but it's still nice, having her follow me around like that (it's been a long time since i had a dog!).
oh, yes! the smell! this dog lives in doggy heaven! i mean, she NEVER has to take a bath, has probably NEVER had a bath, and even has a nice, dry place to hole up when it rains (under the house, that is). i've skinned deer that don't smell as much as yellow dog. wild as she smells, i'm sure that's how she chased away those dogs this morning. whew! this dog gives new meaning to the word "stink". i always wash (all the way to my elbows) after petting her, especially after i peed against a tree and saw her roll in it! ewwwwww!
other than that, it's been pretty quiet around the ranch.
":j
Jim Carey
---------------
Sent: Sunday, October 17, 1999 9:13 AM
Subject: walkabout update, 10/17/1999
(This sequel to my North Carolina dispatches was delayed due to difficulties that are herein stated. I'm writing this from the safety and comfort of the Collins ranch in Millen, GA.)
So on my first day at Monica's ranch in NC she had to work. Her husband, Darrell, said he'd show me the sights. This was on Saturday. Now you may wonder what "sights" there are to see in the heart of horse country. I know I did. Well, I've been holding off telling this story becuase I'm only now (8 days later) recovering, and I've been a bit embarrassed by it, but here it is:
Darrell took me into a town called "Love Valley", which bills itself as the Cowboy Capital. Capital of what, they don't say, so I guess you can't dispute it. So anyhow, we have breakfast at the "Hitching Post" restaurant (seats 13), then mosey around town. Note that I'm the only person lacking cowboy boots and cowboy hat. Well, after the livestock and farm equipment auction we wandered over to the hoedown and flea market. It turns out there was a chili cook-off later in the day, and Darrell and June-Bug (a 450 lb. former Hells Angel turned trail guide) were to be judges in the chili competition.
Well, the third judge called in sick at the last moment and I happened to be standing there at the judge's table asking directions to the beer wagon when the call came. I was assured by the other two judges (Darrell and June-Bug) that the chili wouldn't be all that spicy, and besides they told me I could have free beer during the tasting, so I accepted this as being one of those burdens you endure when you're a famous traveler and therefore known and adored by all (Darrell had been taking care of that all morning).
Well, here's the scorecards from the event, as best as I can remember it:
Chili # 1: Mike's Maniac Mobster Monster Chili
DARRELL: A little too heavy on tomato. Amusing kick.
JUNE-BUG: Nice, smooth tomato flavor Very mild.
JIM: "Holy smokes, what is this stuff? You could remove dried paint from your driveway with it. Took me two beers to put the flames out. Hope that's the worst one. These people are crazy."
Chili # 2: Arthur's Afterburner Chili
DARRELL: Smoky (barbecue?) with a hint of pork. Slight Jalapeno tang.
JUNE-BUG: Exciting BBQ flavor, needs more peppers to be taken seriously.
JIM: "Keep this out of reach of children! I'm not sure what I'm supposed to taste besides pain." I had to wave off two people who wanted to give me the Heimlich maneuver. Shoved my way to the front of the beer line. (The barmaid looks like a professional wrestler after a bad night. She was so irritated over my gagging sounds that the snake tattoo under her eye started to twitch. She has arms like Popeye and a face like Winston Churchill. I will NOT pick a fight with her.)
Chili # 3: Fred's Famous Burn Down the Barn Chili
DARRELL: Excellent firehouse chili! Great kick. Needs more beans.
JUNE-BUG: A beanless chili, a bit salty, good use of red peppers.
JIM: "This has got to be a joke. Call the EPA, I've located a !?##?!?%?~?! uranium spill. My nose feels like I have been sneezing Drano." Everyone knows the routine by now and got out of my way so I could make it to the beer wagon. Barmaid pounded me on the back; now my backbone is in the front part of my chest. She said her friends call her "Sally." Probably behind her back they call her "Forklift."
Chili# 4: Bubba's Black Magic
DARRELL: Black bean chili with almost no spice. Disappointing.
JUNE-BUG: Hint of lime in the black beans. Good side dish for fish or other mild foods, not much of a chili.
JIM: I felt something scraping across my tongue, but was unable to taste it. Sally was standing behind me with fresh refills so I wouldn't have to dash over to see her. When she winked at me her snake sort of coiled and uncoiled ... it's kinda cute.
Chili # 5: Linda's Legal Lip Remover
DARRELL: Meaty, strong chili. Cayenne peppers freshly ground adding considerable kick. Very impressive.
JUNE-BUG: Chili using shredded beef; could use more tomato. Must admit the cayenne peppers make a strong statement.
JIM: My ears are ringing and I can no longer focus my eyes. I belched and four people in front of me needed paramedics. The contestant seemed hurt when I told her that her chili had given me brain damage. Sally saved my tongue by pouring beer directly on it from a pitcher. Sort of irritates me that one of the other judges asked me to stop screaming.
Chili # 6: Vera's Very Vegetarian Variety
DARRELL: Thin yet bold vegetarian variety chili. Good balance of spice and peppers.
JUNE-BUG: The best yet. Aggressive use of peppers, onions, and garlic. Superb.
JIM: My intestines are now a straight pipe filled with gaseous flames. No one seems inclined to stand behind me except Sally. She asked if I want to go dancing later.
Chili # 7: Susan's Screaming Sensation Chili
DARRELL: A mediocre chili with too much reliance on canned peppers.
JUNE-BUG: Ho Hum, tastes as if the chef threw in canned chili peppers at the last moment. I should note that I am worried about Judge Number 3, he appears to be in a bit of distress.
JIM: You could put a hand grenade in my mouth and pull the pin and I wouldn't feel it. I've lost the sight in one eye and the world sounds like it is made of rushing water. My clothes are covered with chili which slid unnoticed out of my mouth at some point. Good, at autopsy they'll know what killed me. I've decided to stop breathing, it's too painful and I'm not getting any oxygen anyway. If I need air I'll just let it in through the hole in my stomach. Call the X-Files people and tell them I've found a super nova on my tongue.
Chili # 8: Helen's Mount Saint Chili
DARRELL: This final entry is a good, balanced chili, neither mild nor hot. Sorry to see that most of it was lost when Judge Number 3 fell and pulled the chili pot on top of himself.
JUNE-BUG: A perfect ending, this is a nice blend chili, safe for all, not too bold but spicy enough to declare its existence.
JIM: Momma??!!
That was eight days ago........
Soooooo....... for obvious reasons I'm only now getting back to normal, and realized that I better tell you about this myself, before you hear about it as family rumors or see the tape on TNN (that's TNN, not CNN).
I guess Darrell was really embarassed, and has been told to refrain from bringing "city folk" to Love Valley any more. For those brothers and sisters, son, neices and nephews of mine that were looking forward to visiting Love Valley with Monica and Darrell at some time in the future, all I can do is quote a famous midget I know: "Oh, well!"
Sally called today and said she's pregnant with my baby. Oh, my!
":j
Jim Carey
------------------------------
Sent: Sunday, October 17, 1999 9:04 PM
Subject: walkabout update, 10/17/1999, part 2
OK, OK, I confess. I plagarized the chili cookoff update i sent earlier today. well, the chili cookoff, love valley cowboy days, darrell and june-bug were all for real, as was the 5-alarm aspect of the chilis presented. but as a number of you have already noticed:
clue #1: i usually don't use capitalization in my email. at least, not the way fr. cullen taught me in high school. i feel it slows down my typing too much. and such Perfect Capitalization was apparently a Dead Giveaway, since i believe that capitalization is used better for EFFECT when used sparINGly.
clue #2: i had a small bowl of the "mildest" chili at the cookoff, and my lips burnt for over an hour. ask darrell; he was thoroughly tickled at my discomfort. anybody who knows me that i NEVER touch the "hot stuff" (well, not in food, anyway).
clue #3: nobody's picked up on this yet, except probably my niece sabrina (monica & darrell's daughter), who's probably just too polite to confront her eccentric uncle, but everybody from north carolina knows that they cancelled the "Love Valley Days" beer selling license years ago, besides which, there's no way that i could have "fought my way to the front of the beer line" through 3 dozen cowgirls (REAL cowboys send their women for the beer!) (that might've been 2 clues).
clue #4: i was wearing a USS Key West submariner's hat (SSN226) and tennis shoes. now think about that for a minute. everybody else had on cowboy boots and cowboy hats. like, YEA, RIGHT, they'd let me judge a chili cookoff. if you believe that, your picante sauce is probably made in new york city (for you furreners: that's an american cultural joke and doesn't translate into your language).
clue #5: well, yes, it was a rather droll story. i only feel off my chair twice when i read it. my material is much wittier. that alone tipped off most of you, i'm sure.
anyhow, i plead guilty as charged and throw myself on the mercy of the court! i just hope you enjoyed the story, and CONSIDER IT A WARNING of what might happen if YOU visit Love Valley, North Carolina (the only town i know of (in the states) where you have to leave your car at the city limits and either ride your horse into town, walk, or take the town stage!)
mea maxima culpa! :)
":j
Jim Carey
---------------
Sent: Monday, October 18, 1999 11:59 AM
Subject: walkabout update, 10/18/1999
well, here it is noon already and i haven't left yet. i've decided to take the yellow dog with me (susan smith-mantz got to me by appealing to my "do the right thing bone.)
so here i am, just back from statesboro (100 mile round trip) where i had to go to get a dog kennel, flea & dog smell shampoo, and, well, $143 worth of pet goodies. some "free dog" this is turning out to be.
well, now i have to catch her, try to wash her, try to get her into the truck and the kennel, hitch up the trailer, and...... well, tomorrow's update should be interesting.
wish me luck!
":j
Jim Carey
---------------
Sent: Friday, October 22, 1999 7:05 AM
Subject: personal update
i'm at 306 julia street, key west, fl 33040.
my mailing address is POBox 4466, key west, fl 33041.
my cell phone # is 561-371-7926.
":j
Jim Carey
---------------
Sent: Thursday, October 21, 1999 11:46 AM
Subject: walkabout update, 10/21/1999
we left off with me investing $143 in doggie goodies, and about to bathe "yellow dog" for the first time.
well, the bath was traumatic for both of us. i wonder if she'd ever had a bath before. anyhow, i managed to remove the worst of the odor she had.
she still smells, but i got it down to a level i could live with in the truck. by the time i dried her she was so traumatized that i couldn't get her to stand up. i had to carry her to the truck and load her into the crate.
well, i thought the smell was gone. we made the entire 750 mile drive from millen to key west with the windows open. we stopped every hour; by the fifth or sixth stop yellow dog was jumping down out of the crate without being carried, and would jump back up into the crate on her own again.
we spent monday night at a rest stop in florida on I-95. dog started the night sleeping on the floor next to my bed; when i got up in the morning she'd created a nest of pillows on the sofa, and had appropriated my stuffed animals as chew toys. dog and i have had some debates as to whose doghouse this travel trailer is. dog seems to think it's her personal kennel.
so we arrived in key west on tuesday around sunset. we're camped at susan and jimmy's place on julia street. they have 2 border collies about yellow dog's size, and all 3 of them are getting on together just fine. the border collies are, of course, very jealous of yellow dog's big silver dog house, and yellow dog WILL NOT allow them inside. :)
anyhow, we're having fun, and susan has me reading puppy books. key west is like i've never left. anyhow, i'm gonna run; vet appointments and the like, you know.
take care, y'all. looks like the walkabout updates really ARE gonna end (well, as soon as i find housing!)
":j
Jim Carey
---------------
Sent: Sunday, November 07, 1999 11:45 PM
Subject: walkabout update, 11/7/1999
walkabout update!??? Again??!!! Well, I decided to buy a motor home. Used. Diesel. And I started searching the internet, and found hundreds. Then I started visiting them. I worked my way up Florida to Georgia, and, well, one thing led to another, and... Here I am in Michigan again, at my sister Cheryl's house. I'm leaving here tomorrow to see another couple of motor homes in Michigan, then it's off to Indiana, and back south towards Florida.
No, I haven't found anything I like, yet. Maybe tomorrow? Wish me luck!
":j
==========
Sent: Friday, November 12, 1999 2:42 PM
To:
Subject: walkabout update, 11/12/1999
Well, I'm back in Key West. The motor home search didn't go so well. The bottom line is that there just isn't much available in my price range with a diesel engine. Soooo?? I'm gonna have to settle on a gas engine, I guess. There's LOTS of those in Florida to choose from.
I guess I'm going to head up to Florida this weekend, and go looking some more. I'm going to try taking Lulu Belle with me, too. We'll see how that goes! (Lulu's doing well, has gained 10 lbs., and is starting to turn into a yellow Lab, we believe.)
More news when there is some!
":j
======================
Sent: Sunday, November 21, 1999 3:02 PM
Subject: walkabout update, 11/21/1999, part 3
Boy, what a change-of-pace Millen, GA is from Key West, FL. I just came in from sitting outside with Lulu Belle, and I suddenly realized that what we were doing is listening to the leaves fall! I mean, it is SO quiet up here compared to KW. When a car drove by I remarked (to the dog, yet), that this was the second car in less than an hour, and if the traffic kept up we'd have to find someplace less hectic (ha, ha)!
Quiet enough that yesterday we could hear the rumble of freight trains, not only when then crossed the crossing a couple of miles down the road, but softly, in the distance, we could hear them blow their horns as they entered Millen, 17 miles away (well, OK, maybe 14 miles as the crow flies). I'm getting to be like Larry Meggs, too; I can tell the sound of Howard's truck coming down the road, before he even gets to the driveway.
Anyhow, I'm having a wonderful time. They had a buffet (pot luck dinner), after church this morning, so I ended up leaving for church (Rosemary Baptist Church, established 1889) around 9:30 and didn't get back until 2:30. Boy, nobody eats like Baptist Preachers! Lulu Belle made a wonderful fuss over me when I returned, of course. I also discovered that several people bring their dogs to church and they just hang around outside during services, and that it's perfectly OK for me to take Lulu Belle in the future. I learned this from a woman about Grandma's age, whose Grandfather donated the land the church sits on. Now THIS is country!
Well, 3 updates in 1 day is my limit. Hope I didn't bore you.
":j
======================
Sent: Tuesday, November 23, 1999 9:48 AM
Subject: walkabout update, 11/23/1999
Well, I'm just about ready to hit the road again. I got all of the cleanups and fixups finished on the Wanderlodge yesterday, and the only thing left to do today is sort out a minor problem with the trailer lights. I figure if I get out of here (Millen) by mid-afternoon, I'll have no problem making it to Mom's in Boynton Beach by supper time tomorrow.
Oh! I forgot to tell Mom I bought a motorhome! I wonder if she'll let me park it at her condo? (hahahahahaha!). Actually, there's a campground (that allows pets) perhaps 5 miles from her place. I better call and make reservations before I leave here. She sounded upset when I said I had a dog that I was responsible for; she'll be even more upset if I try to park 60 feet of RV equipment in front of her house. :-)
I'll take some photos once I get everything hooked up today, and mail them to you in the next few days.
On Thanksgiving Mom and I are going up to Cousin Madeline's place in Stuart for the day, then I figure I'll head on down to KW on Friday, getting there before sunset (hopefully). Wish me luck!
":j
======================
Sent: Thursday, November 25, 1999 1:19 PM
Subject: walkabout update, 11/25/1999 - Thanksgiving day
Well, I made it to my Mom's place. I finally got out of Millen at 3pm on Tuesday. We got as far as south Georgia the first night, spent the night in a truck stop, and made the final haul yesterday in about 12 hours. Bear in mind that Lulu Belle gets to stop at EVERY rest stop to check out the smells. The coach ran fine, but with the trailer and the Blazer on the back, it's almost as long as a semi truck, so it requires a lot of attention. Furthermore, the steering on this is like a bus, with a big wheel sitting horizontally in front of the drivers seat. It's power steering, but that's "power assisted" steering. You still have to work at it, especially if you're attempting a U turn. What I'm getting at is that I have some new sore muscles this morning, and i don't usually think of driving as something that makes me sore.
Anyhow, we found a campsite at a county park that's pretty nice, and it's only about 10 minutes from Mom's. I had dinner at Mom's last night, and the 4 of us (me, Mom, Mick and Lulu Belle) are going to head up to Madeline's around noon today. Mom wanted to take me shopping for my birthday present this morning, but since it's only going to be more white socks, I suggested that maybe she wouldn't need my assistance this year! :-)
I miss you all, and hope to see you soon.
":j
======================
Sent: Sunday, November 28, 1999 7:44 AM
Subject: walkabout update, 11/28/1999
Dateline, Key West, FL
Well, I made it back to Key West early Friday evening. The trip down was uneventful, except for the gasoline bills, which looked like the national debt. It's something, flying down the highway with 15 tons of machinery going 60 miles an hour, let me tell you.
Jesus was looking over my shoulder again. The dealer and I disagreed over how strong the hitch plate on the coach was. He said "oh, that'll pull your truck just fine." I felt it was only a 3,000 lb. hitch. I was right; while it was fine in Millen, that had only been 125 miles. When I got to KW the hitch ball was just about to pull out of the plate, and the plate shows metal fatigue cracks all the way around the ball. I don't think it would have lasted another 100 miles; as a matter of fact, one or 2 more good bumps probably would have separated the trailer from the coach, and the 3 tons of Blazer and trailer would have been off on their own! Obviously, I'll be getting that replaced. I've done enough towing this year that I need to learn to trust my own experience.
Lulu Belle baptized the coach on the way down from Boynton Beach to KW. She'd gotten me up 5 times Thursday night to go outside; I found out why on Friday when she barfed and had a diarrhea accident in the coach. Must have been too much rich food at Cousin Madeline's on Thursday. Either that, or Madeline's kids really did feed that gray cat to Lulu Belle. I never did see that cat again after they took it out into the yard to "play with the dog." Cute kids; they kind of remind me of Pugsley Addams and his sister. <grin> Anyhow, I shampooed everything, so no real damage done, but we did drive several hundred miles with all the windows open after that!
It's been lots of fun trying to drive the coach around on KW streets. Many of them I can barely squeeze down, just clearing on both sides. I've got a real nice parking spot over at Carols' place, and come Monday I'll start with the cleaning and fix-up. Lulu Belle seems glad to be "home", but then again, she seems to be glad wherever we are, just as long as I've turned the engine off.
Well, I should be here in KW until December 19th, or thereabouts, at which time I'm going up to MI and NC for Christmas and New Years, so if you want to come visit, I'm here.
":j
======================
Sent: Saturday, December 18, 1999 11:34 PM
Subject: walkabout update, 12/18/1999
Well, I'm back in GA again. Spending the weekend at Richard's before heading on to sister Monica's on Monday. As soon as I left the Keys it got gray, and cloudy, and most of today it was either raining or drizzling. Yep, I'm heading north again. I hope to be back in KW for New Year's!
Merry Christmas!
Jim
======================
Sent: Sunday, December 19, 1999 1:02 PM
Subject: walkabout update, 12/19/1999
It's cold, wet, drizzly, and it's 12 noon. The chill bites right through you. I don't know HOW I'm going to survive the next 10 days up north, here.
Especially since I'm only in Millen, Georgia. I wonder what Michigan will be like? Why couldn't everybody have come to Key West for Christmas???????!!!!!! Well, I've got to go out and rearrange the presents in the sleigh. After dropping gifts at Mom's and here in Millen, I might be able to see out the back window if I move some stuff around.
I'll be in North Carolina by tomorrow night. Perhaps I'll just stop, there? I sure can't imagine what Michigan will be like!
:-)
Jim
================
Sent: Wednesday, December 22, 1999 3:32 PM
Subject: walkabout update, 11/22/1999
Well, I made it to Michigan safe-and-sound last night. I got up this morning to a fresh dusting of snow this morning, so I know I'm home. I also know why I moved to Key West.
My nephews were here at my son's house when I arrived; we played Risk until 1am. I did, of course, CONQUER THE WORLD!!!! AHHHHhhhhhh,hahahahahahahahhahahahhahahaha (I chortled, evily)!
Lulu Belle, of course, just seems to take to everything like it was natural. I did have to PUSH her out into the cold this morning, but after she was out the cold didn't seem to bother her at all.
If you don't hear from me again before Christmas, I hope you and yours have a very merry one!
Love,
J
============
Sent: Thursday, January 06, 2000 1:40 PM
Subject: walkabout update, 1/4/2000
Well, life as we know it didn't end last weekend. Drat! Now I guess I have to find a job.
I arrived back in KW safe-and--sound on New Year's Eve, and ended up going downtown to see the giant conch shell fall at midnight (after all my talk about "I'M NOT GOING DOWNTOWN!"). It was quite the crowd, but a lot less rowdy than the Halloween crowd usually is.
I managed to see my ENTIRE family over the holidays; even my 91-year-old Grandmother in Canada. It was, simply, the best Christmas I've had in my entire life. It was really wonderful.
Stay in touch.
Jim
==============
Sent: Thursday, February 03, 2000 3:07 PM
Subject: walkabout epilog, 2/3/00
Well, it was a slow day for the website programmer. So I did some personal stuff, just for fun. I hope you enjoy viewing this as much as I enjoyed creating it:
I took all the "walkabout" lettering and the map off the truck today, too. That part of my life is over. Onward!
Miss you!
Jim
======================
as of 0/2001:
Jim Carey
5678 Old Savannah Rd.
Millen, GA 30442
home: 478-982-3462
fax: 775-796-2668
So that's it.That was my adventure when I went walkabout and toured the United States of America, and visited 48 States on the North American Continent.
(c)2001 by Jim Carey. All Rights Reserved