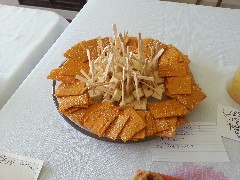 Recently I went to a raw food pot luck on Sunrise Key in Ft. Lauderdale, FL.
Our hosts were Sam and Heather
at their 8,000 sq. ft. palace, I mean, mansion.
The food was great and the company was even better.
All of the dishes are raw vegan. You can click on the photos for larger images.
| | |
| --- | --- |
| | |
| | |
| | |
| | |
| | |
| | |
| | |
| | |
| That's Sam on the far left, and Heather is seated in front of him. Those are their Americanized names; I didn't quite catch their real names. | |
| The view out back. | |
| | |
| | |
| Heather's mother is famous for her enamels on porcelain. Apparently that's what allowed them to move to Ft. Lauderdale when things started getting bad in Iran, some years ago. | Deb Wing. |
| | Yes, that's me in my '12 Shelby Mustang Cobra Convertible. |
A link to the photos folder, for easier downloading:
 http://jimcarey.us/SunriseKey/