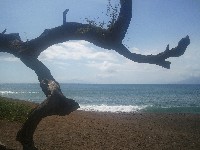 My Winter trip to Maui, April to May, 2013. Reunited with good friends, and
I made new friends.
Like most years, the round trip flight only cost $10, because I cashed in frequent flyer miles. Isn't it great when you fly a lot for business? Staying with friends and family costs a few meals in restaurants. My biggest expense was a rent-a-wreck. I have No Idea why people think it's expensive to vacation in Hawaii.
Clicking on the photos brings up a high res version in another tab or window.

Community baths.

Brother Brad has manifested his dream of the Rainbow Health Spa and Resort, in Kihei. It's primitive - and inexpensive, at $5 a day.

The exercise room.

Brother Brad being camera shy. See also Maui 2007, Maui 2010 and Molokai 2010. It's the same Brad Kossman.

On both sides are the sleeping cubicles. Each has a single-bed mattress and about 2 ft. of additional length for your luggage.

Shady area for daytime use.

The kitchen area.

More sleeping areas.

This year's rent-a-wreck. A reliable Datsun that I drove over 1,000 miles.

Seven Sacred Pools, Hana, Haleakala National Park, North shore, Maui.

Lisa, a guest at the Rainbow Health Spa and Resort. This is the South shore of Maui.

People get swept into this blow hole every year. I warned Lisa, but she was intent at getting a close-up photo. Luckily, she didn't fall in.

Where's Lisa? Did she get swept out to sea, like so many before her?

I couldn't quite catch the timing of the blow hole, which would shoot 20 ft. into the air.

You have to click on the photo, download the high res version, then zoom in on the trunk of the tree to fully appreciate the beauty of this Rainbow Eucalyptus tree in back of Bill Boston's house.

Big Beach in the background. Lisa the ham in foreground. LOL - she survived the blow hole.

The tag number is MMM666. The letter M is the 13th letter of the alphabet, so this tag could be interpreted as 13-13-13-6-6-6. Spooky!

On top of Haleakala volcano - and above the clouds.

Driving down Haleakala, a storm cloud blew in.

Driving around West Maui.

At OGG airport, heading home. That's Haleakala in the distance.
The link to the photos folder: http://jimcarey.us/Maui2013/